Barcelona Dragons

Team 2001
2001 had been the last bright year for the Barcelona Dragons, but once again they had been the dominating team throughout the season until they were running short in the World Bowl.
Barcelona Dragon 2001 players
Angoy | Atkins | Broomfield | Clemons | Conti | Darby | Engelhardt | Gilmore | Green | Hamoudi | Herndon | Insley | Jackson | Loggins | Malbrough | Martos | Pope | Robinson | Rosado | Simmons | Watts | Wilson
Barcelona Dragons videos
Barcelona Dragons vs. Rhein Fire 2001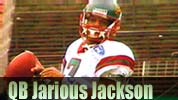 Quarterback Jarious Jackson had thrown the Barcelona Dragons safely into the 2001 World Bowl.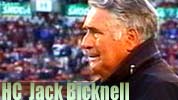 In 2001 head coach Jack Bicknell had qb Jarious Jackson on the field.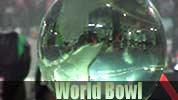 The 2001 World Bowl videos
Video 3 with Guy McIntire and Commissioner Paul Tagliabue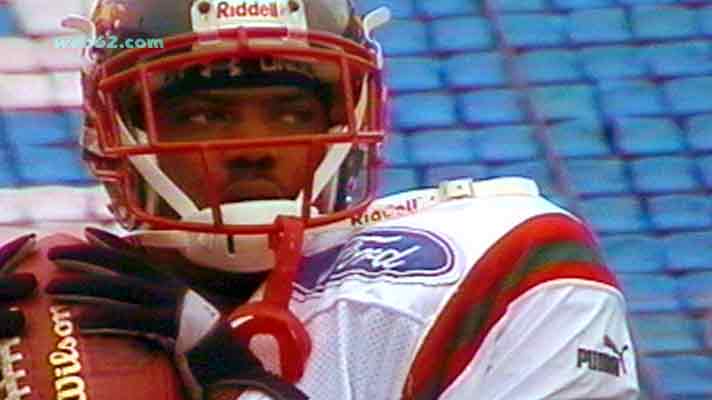 RB Mike Green Titans
The Tennessee Titans had allocated running back Mike Green to the Barcelona Dragons.
Barcelona Dragons 2001 players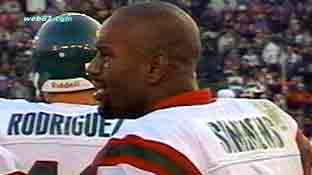 Receiver Tony Simmons had been one of the stars at the 2001 Dragons.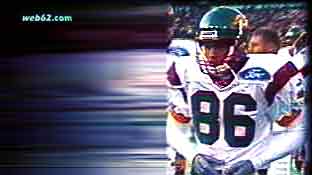 Receiver Bryan Gilmore had been another highlight player for the Barcelona Dragons.
DT Tim Engelhardt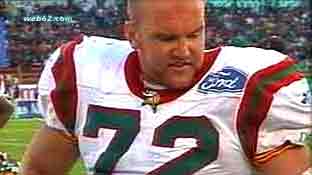 Defensive tackle Tim Engelhardt had almost made it at the Minnesota Vikings. In the World Bowl he had scored a great sack against game MVP QB Jonathan Quinn.
Born on May 12 in 1978
College: New Mexico State
Weight: 279
Height: 6-2
RB Lloyd Clemons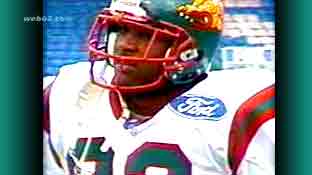 Running back Lloyd Clemons came from the New York Giants to the Barcelona Dragons.
Born on May 29 1976 in Detroit, Michigan
College: Michigan State
Height: 5-11
Weight: 207
WR Trevor Insley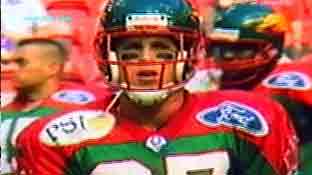 Trevor Insley from the Colts had been the top receiver in the World Bowl with 10 catches for 80 yards and during the NF season 2001 he played in 9 games for the Colts in which he had scored one TD.
Born on December 12 in 1977
College: Nevada Reno
Height: 6-0
Weight: 192
DB Anthony Malbrough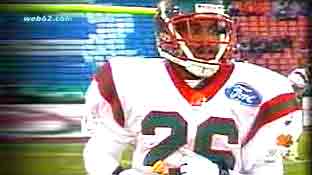 Anthony Malbrough had been with the Cleveland Browns in 2000 for 9 games before he was sent to the Dragons, where he had shown a great game in week 2 with 3 interceptions of which 2 were returned for touchdowns (76 and 65 yards) what had earned him the NFL Europe Defensive Player of the Week honor.
Born on December 9, 1976 in Beaumont, Texas
College: Texas Tech
Height: 5-9
Weight: 180
DT Donald Broomfield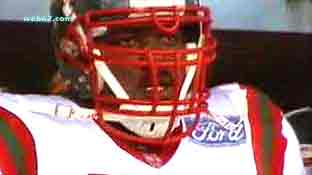 Donald Broomfield had been with the Arizona Cardinals during the NFL season 2000.
Born in Olustee, FL on June 10 in 1976
College: Clemson
Height: 6-3
Weight: 294
Antonio Wilson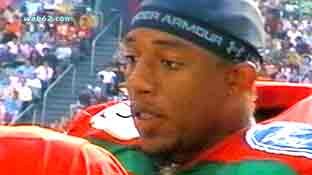 Antonio Wilsonwas allocated by the Minnesota Vikings, where he had played in 10 games in between 2000 and 2002 before he went up north to play for the Edmonton Eskimos.
Born on December 29, 1977 in Seagoville, Texas
College: Texas A&M–Commerce
Height: 6-2
Weight: 244
LB Corey Atkins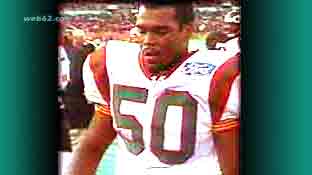 Corey Atkins was allocated by the Atlanta Falcons, where he had spent the NFL season 2000.
Born on November 11, 1976 in Greenville, SC
College: South Carolina
Height: 6-0
Weight: 227