Amsterdam Admirals

at Cologne Centurions 2005
Only 8,863 fans saw an impressive qb Kurt Kittner with rb Jarrett Payton and a highly solid Admirals defense under head coach Bart Andrus bringing home a clear 37:24 win.
Amsterdam Admirals videos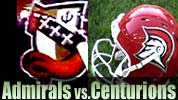 Watch The game video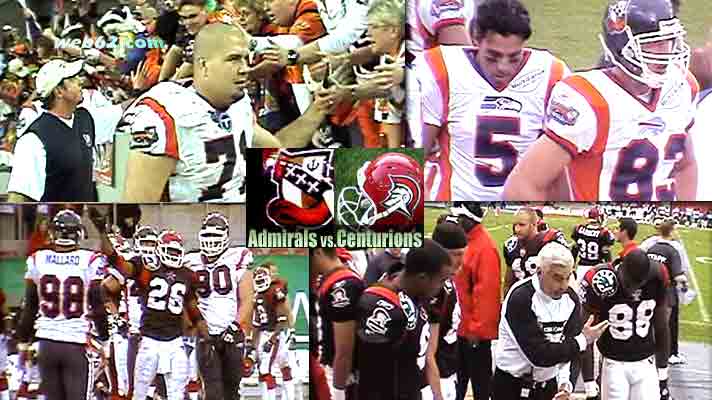 Admirals at Centurions 2005
The time of possession was fairly equal with 31:24 for the Cologne Centurions and 28:36 for the Admirals.
Players and game scenes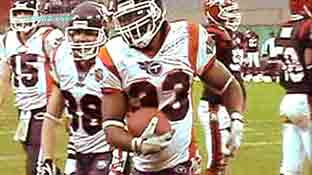 Running back Jarrett Payton had impressed with a fabulous TD and 9 carries for 30 yards in addition to 2 receptions for 21 yards.
Jarrett Payton video interview and photos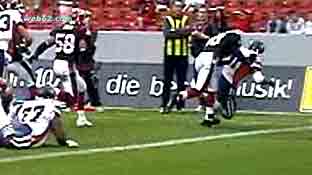 But running back Jonathan Smith from the Kansas City Chiefs opened the touchdown party.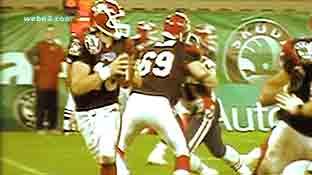 Despite an injury qb Kevin Thompson could complete 22 from his 36 passes for an impressive 260 yards and 2 TDs.
But 3 interceptions had lowered his rating down to 66,9.
Kevin Thompson photos and info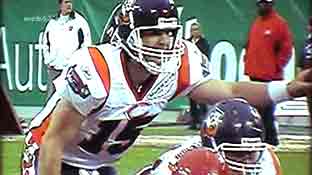 Admirals quarterback Kurt Kittner from the Chicago Bears did complete 9 from 12 passes for 150 yards and 1 TD.
His longest pass was over 60 yards and with a rating of 144,4 he had completed the evening as the best on the field.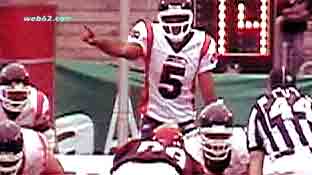 During the game Admirals quarterback Gibran Hamdan got injured on his shoulder what threw him out of the season.
Against the Centurions he completed 6 from his 11 passes for 98 yards and a QB rating of 84,7.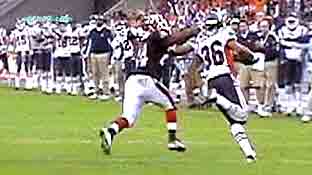 Safety Norman Lejeune from the Tennessee Titans had contributed 2 important interceptions.
CB Jeff Sanchez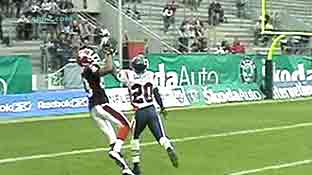 Cornerback Jeff Sanchez from the Detroit Lions had shown 2 tackles and 1 interception. Back in 2003 he had been with the Dallas Cowboys.
Born in New Orleans, LA on January 21 in 1981
College: Tulane
Height: 5-9
Weight: 175
WR Carl Morris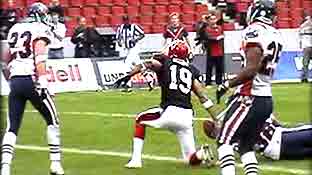 Receiver Carl Morris came from the Miami Dolphins and he was able to sore a fine TD after a 15 yd. pass from Kevin Thompson. During the entire game Carl Morris had 5 receptions for 57 yards.
Born on March 3 in 1981
College: Harvard
Height: 5-3
Weight: 214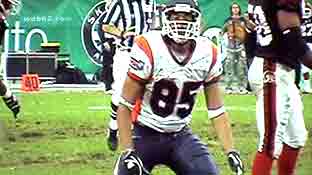 Amsterdam Admirals receiver Ruvell Martin had shown 3 receptions for 90 yards and 1 TD of which the longest one had been a 60 yards pass.
Ruvell Martin photos and videos
WR C.J. Jones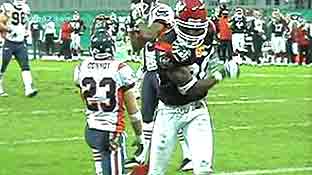 Touchdown by WR C.J. Jones from the Cleveland Browns after a 19 yards pass from QB Kevin Thompson. And in 2008 he had been with the Patriots.
Born in Boynton Beach, F on September 20 in 1980
College: Iowa
Height: 5-11
Weight: 190