Frankfurt Galaxy gamedays on photos, videos
Frankfurt Galaxy

@ Cologne Centurions 2005
Week 3 of the 2005 NFL Europe season brought 10.800 enthusiastic fans to the Cologne Centurions, who all felt well entertained by a 23:14 victory that was mainly based on the 2 TDs of Dallas Cowboys running back hopeful Keylon Kincade and a superb defense, that gave the Galaxy as little as only 21 minutes possession time.
Frankfurt Galaxy head coach Mike Jones had mentioned a "sleeping giant" when describing his team a week earlier after their win against the Amsterdam Admirals. But too many injuries had prevented a further rise in week 3 while the Cologne Centurions were on top of the League after the match and 3 straight wins.
Galaxy vs. Cologne Centurions on video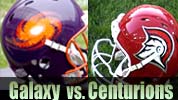 Watch the original game video clips from season 2005 when slow modems were the bottleneck for Internet TV.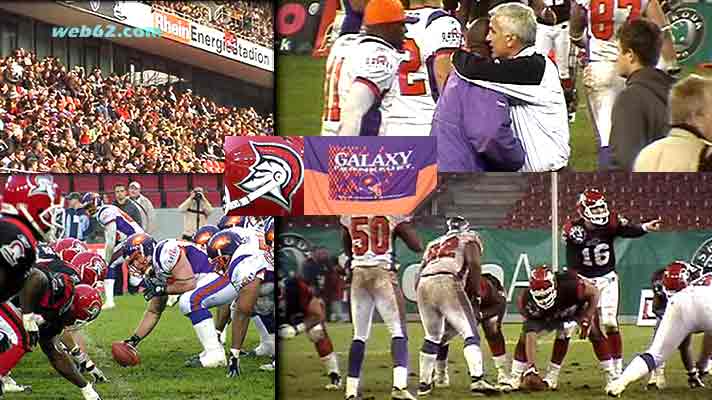 Galaxy @ Centurions 2005
The the two champion head coaches Mike Jones and Peter Vaas had played against each other so many times during their impressive NFL Europe career.
Over many years Mike Jones had been a key factor for the success of the Rhein Fire while Peter Vaas had been with the Barcelona Dragons before he did take two championships in a row with the Berlin Thunder.
But despite the loss in Cologne Mike Jones was fully on track with his team as he was also able to reach two World Bowls in a row in 2006 and in 2007.
© web62.com Free Internet TV since 1998