Frankfurt Galaxy

The Rhein Fire 2005 games
In the press conference Mike Jones said, that he had not been too pleased with his offense during the second half of the game, "we started good, but did not finish well ... ".
During their 20:13 win the Galaxy had over 32 minutes possession time with even more than 10 minutes during the second quarter, while only one field goal in the second half during the match had not been too impressive.
Galaxy vs. Fire on video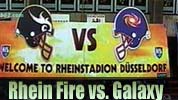 Mike Jones had not been amused despite the win at Fire.
Game video with head coach comments
After the home win against Mike Jones had said, that these are exciting times" for the Galaxy fans.
Game video with head coach comments
Watch the original game video clips from season 2005 when slow modems were the bottleneck for Internet TV.


Frankfurt Galaxy QB Kevin Eakin from the New York Jets had completed 16 from 20 passes for an impressive 202 yards and 2 TDs and a solid rating of 121.1.

Joe Smith vs. Akili Smith
Mike Jones had two fairly efficient quarterbacks on the field with Akili Smith and Kevin Eakin while Pete Kuharchek had to rely mainly on Joe Smith.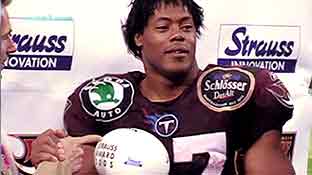 Running back Joe Smith from the Titans had shown 20 carries for 120 yards and 1 TD what had made him the game MVP by the end of the match.
TD Joakim Holm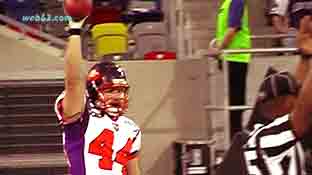 Swedish National Joakim Holm had contributed a fine TD and 2 receptions for 18 yards.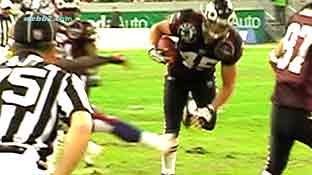 Tight end Jason Rader had come from the Atlanta Falcons and his contributions to the game were 5 receptions for 33 yards.
Rhein Fire Fans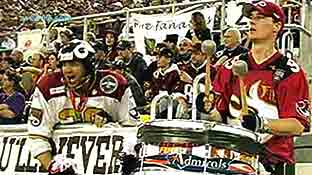 For the Rhein Fire fans it had been a tough season with only 1 win until week 8 and only 28.000 had come out to the big Derby compared to 50.000 some years ago until the team had to migrate to Schalke during the construction of the new arena.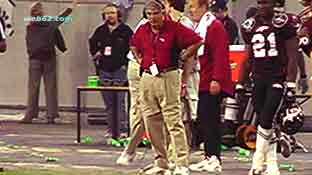 Head coach Pete Kuharchek was playing the worst season ever and the team had to make a sad decision when saying good bye after all these years to a wonderful person and a hard working coach. But 5 seasons without a trophy had shown, that a superb defensive coordinator isn`t automatically a successful head coach.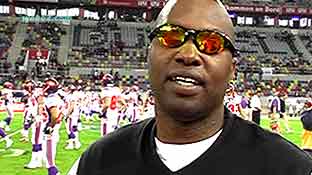 Galaxy head coach Mike Jones had been working closely with Pete Kuharchek for several years before he took over the Frankfurt team in 2004 for leading the team into 3 World Bowls within 4 years.