Frankfurt Galaxy
vs. Rhein Fire 2002
Just like in season 2001 a last minute interception had prevented a winning score for the Frankfurt Galaxy and this time it had been Deke Cooper, who had helped to move his team into another World Bowl appearance.
Nevertheless, quarterback Joe Hamilton had been a show of it's own class and most obviously, he has been one of the best, that the NFL Europe had ever seen.
But this was only one important aspect of a game with many peculiar moments and circumstances.
Such as for example the possession time, which went clearly for the Galaxy with 33:53 compared to only 26:07 for the Rhein Fire.
But Pete Kuharcheck had come up with the two sensational running backs Jamal Robertson from the 49ers and with Tony Taylor from the Dallas Cowboys.
Head coaches on video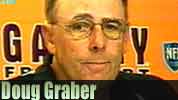 Before the match Frankfurt Galaxy head coach Doug Graber had missed the World Bowl with a 6–4 season on third place in the League after the close defeat at Rhein Stadium.
Doug Graber pre-game interview 2002
Video