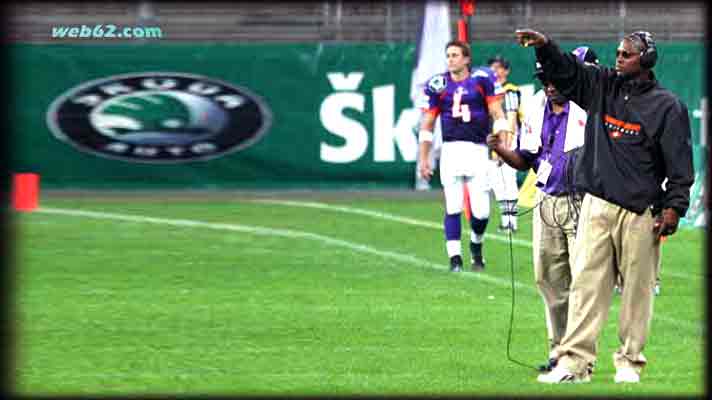 Galaxy vs. Sea Devils 2007
Galaxy head coach "commander Jones" loves to keep his yard clean and certainly he would have had preferred a clearer win than a 20:17.
Also the time of possession was almost equally shared with a 30:25 for the Galaxy and 29:35 for the Berlin Thunder.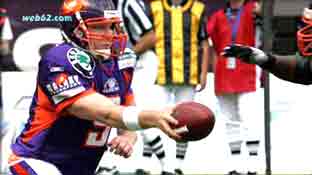 Quarterback Kevin Eakin had shown 4 failed pass attempts for an unpleasant rating of 39.6.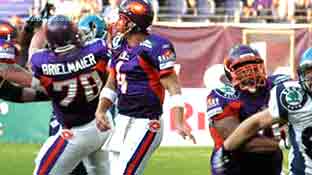 Quarterback J. O'Sullivan had some good protection and he completed 14 from 22 passes for 223 yards and 1 TD for a rating of 112.5 thanks to also no sack and no interception.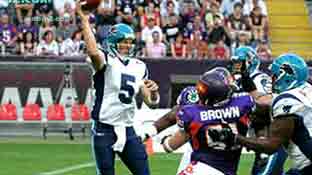 Hamburg Sea Devils quarterback Casey Bramlet from the Redskins had completed 12 from 21 passes for 237 yards in addition to 7 rushing yards, 1 interception and 1 sack for a rating of 92.8.
WR Rich Parson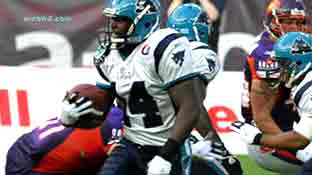 Receiver Rich Parson came from the Redskins and he had shown 4 kickoff returns for 120 yards in addition to 3 punt returns for 8 yards gain.
Born on May 16 in 980
College: Maryland
Height: 5-10
Weight: 183
QB Rod Rutherford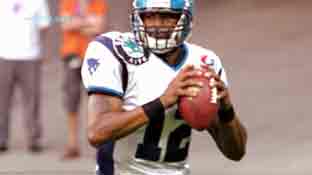 Quarterback Rod Rutherford had been with the Carolina Panthers for the 2004 NFL season. In the game he had completed 1 from 7 passes for 12 yards in addition to his 33 rushing yards and 1 interception for an unusual rating of 0.0.
Born on December 12 in 1980 in Pittsburgh, PA
College: Pittsburgh
Height: 6-2
Weight: 223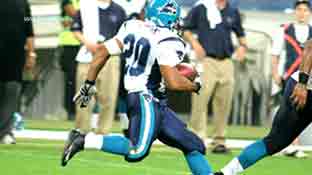 Denver Broncos running back Quentin Griffin had gained 35 yards with 9 carries in addition to a brilliant kick off return for 79 yards.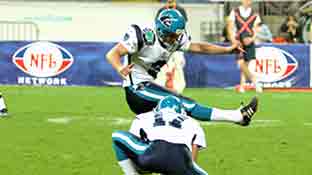 Shane Andrus was looking forward to a fine career in the NFL and 3 field goals were his contribution to the tight match.