Scottish Claymores photos, videos, stories
Donald Sellers

WR St. Louis Rams
In season 2000 Donald Sellers had come late to the Claymores, but instantly he had turned out to be very important with contributions like this great catch in the World Bowl.
Before Donald Sellers had spent two season in the NFL at the St. Louis Rams, but without appearing on any game.
After his NFL Europe stint Donald Sellers had signed with the XFL team Las Vegas Outlaws.

Donald Sellers St. Louis Rams
As usually there were several Dallas Cowboys were allocated to the Claymores and tackle Noel Scarlett had been one of them.
Donald Sellers videos
Donald Sellers @ World Bowl 2000 Claymores vs. Rhein Fire
Video 1
Video 2
Video 3
Video 4
Video 5
Donald Sellers @ Rhein Fire 2000
Video
WR Donald Sellers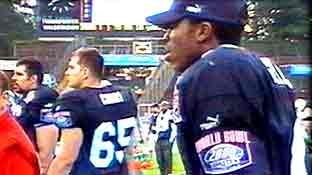 Born on December 30, 1974 in Phoenix, Arizona
College: New Mexico
Height: 6-0
Weight: 195