Scottish Claymores

vs Rhein Fire 2000
30,537 NFL Europe fans saw the Claymores with qb Kevin Daft and top running back Aaron Stecker on the field and head coach Jim Criner in charge.
The game was tough and it ended with a 10:33 loss for the Claymores after some heroic efforts by Fire qb Danny Wuerffel for the home team under Pete Kuharchek in his first season on head coach.
Duane Hawthorne
from the Cowboys, the QBs Kevin Daft Marcus Crandell with
RB Aaron Stecker
had been the big boys, whose defense Rhein Fire Center
Chris Brymer
and coach Walter Rohlfing had called the toughest in the NFL Europe.
Scottish Claymores videos
Game video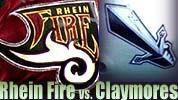 Scottish Claymores 2000 at Rhein Fire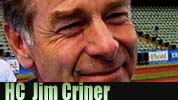 Jim Criner has been the head coach of the Scottish Claymores 1999.