Frankfurt Galaxy

The Rhein Fire 2005 games
And once again it had been a tight clash in front of 27,439 after only very few matches between the Galaxy and the Fire had seen clear winners.
In recent years both of them had lost their dominance to the Berlin Thunder, where Peter Vaas had started a line of 3 World Bowl wins.
In particular the Rhein Fire had been struggling a lot recently and their fans had been dying to experience a win while the Galaxy had won at least one World Bowl in recent times.
Galaxy vs. Fire on video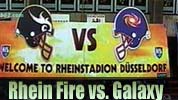 Mike Jones had not been amused despite the win at Fire.
Game video with head coach comments
After the home win against Mike Jones had said, that these are exciting times" for the Galaxy fans.
Game video with head coach comments
Watch the original game video clips from season 2005 when slow modems were the bottleneck for Internet TV.

Rhein Fire @ Frankfurt Galaxy
Mike Jones had two fairly efficient quarterbacks on the field with Akili Smith and Kevin Eakin while Pete Kuharchek had to rely mainly on Joe Smith.

Mark Anelli and Brock Edwards
Mark Anelli from the Atlanta Falcons had caught 3 passes for 41 yards while tight end Brock Edwards had scored the touchdown of the night to finalize the ninth consecutive loss for the Rhein Fire.