Frankfurt Galaxy
at Rhein Fire 2003
Rhein Fire had already lost their season opener against the Admirals and on the road against the Dragons, so that a victory had seemed mandatory in order to keep the World Bowl dream alive.
However, on that day none of the quarterbacks had been able to display some magic, what did proof Ed O'Neil's gameday prediction right.
Galaxy coaches on video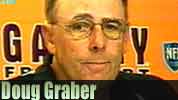 Before the match Frankfurt Galaxy head coach Doug Graber had once again reached a 6–4 season but this time it was sufficient.
Doug Graber pre-game interview 2003
Video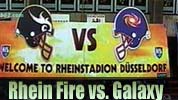 Watch the original game video clip from season 2003 when 56k modems were the bottleneck for Internet TV.
Video
Galaxy @ Fire 2003 Brown & Marc Lester
QB James Brown and WR Marc Lester were connecting very well at times, but the Fire defense was often fully concentrated when the Galaxy was coming closer to the red zone.

DE Bastian Lano
One of the strongest and fastests athletes ever at Rhein Fire had been defensive end Bastian Lano, who was constantly pressing for tackles, intercepetions and sacks while off the field, he has always been a truly nice and friendly chap.

Frankfurt Galaxy GM Tilman Engel
After half of the season the Rhein Fire defense was leading the League and so it wasn't much of a surprise, that they got fully excited about spoiling the birthday party for Galaxy GM Tilman Engel.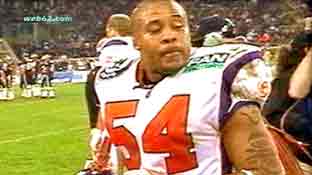 Idris Price from the Tampa Bay Buccaneers had been one of the best defenders with 4 tackles and 3 assists.
More Idris Price photos and info
WR Charlie Adams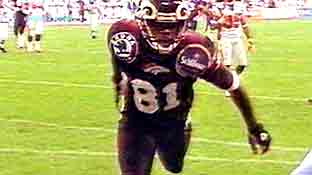 Charlie Adams from the Denver Broncos had converted one pass for 22 yards and he scored the first Fire TD.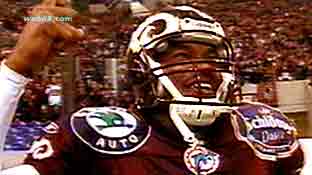 Kendall Newson had been the best wideout with 3 receptions for 55 yards and three NFL seasons with the Miami Dolphins were his impressive reward.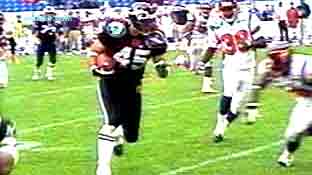 Tight end Chad Mustard had caught 2 passes for 34 yards and later on he had a fine NFL career at the Cleveland Browns and at the Denver Broncos which went on for 5 seasons.
S Abdul Howard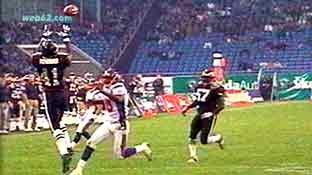 Safety Abdul Howard from the Jaguars caught this important interception in addition to his 5 tackles and 3 assists.
LB Charles Burton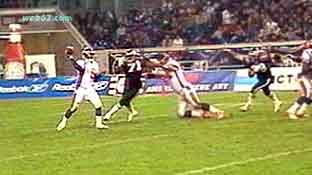 Cardinals Linebacker Charles Burton ( No. 71) had been the most efficient defender on the field with 7 tackles, 2 assists and 3 sacks, what was called "a good day`s work" by his head coach Pete Kuharchek.