Frankfurt Galaxy gamedays on photos, videos
Frankfurt Galaxy

at Rhein Fire 2003
"This Team is truly on a mission."
That was the statement of Galaxy head coach Doug Graber after that triumphant win against their main rival from the Rhein River area with 38-7 in front of 25,539 fans.
Galaxy coaches on video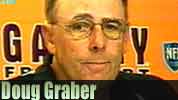 Before the match Frankfurt Galaxy head coach Doug Graber had once again reached a 6–4 season but this time it was sufficient.
Doug Graber pre-game interview 2003
Video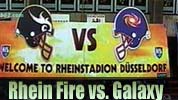 Watch the original game video clip from season 2003 when 56k modems were the bottleneck for Internet TV.
Video
Galaxy vs. Fire 2003 TD Robert Baker
Miami Dolphin`s WR
Robert Baker
had scored the TD of the season , when he simply jumped over Rhein Fire`s safety Abdul Howard from the Jaguars, who did crash into LB Dane Krager from the Seahawks.
During the entire game Robert Baker had contributed a total of 4 receptions for 111 Yards and 2 TDs.

Ralf Kleinmann & Robert Baker
Joy was huge among the players and surely also the Galaxy fans had seemed delighted since they were waiting for a victory against the Fire for some years.
And when the game was started by National hero Ralf Kleinmann, who had been highly motivated.
© web62.com Free Internet TV since 1998