Andrew Luck and Oliver Luck

The quarterback family
What a nice Football family story can now be followed iduring the NFL season 2015 with Andrew Luck and his son Oliver Luck.
Oliver Luck was born on Tuesday, April 05, 1960 in Cleveland, Ohio and he had been a famous and passionate NFL quarterback for the Houston Oilers back in the days, before he had become a successful lawyer and a top ranking NFL official.
First, Oliver Luck was leading the two most succesful NFL Europe teams from the GM seat, what was followed by becoming the President of the NFL Europe League.
How proud must he feel now to see his son Andrew Luck trying to move the Colts through that crucial race for Super Bowl 50.
And now even Vegas is expecting him and the Colts to be in that so far most important Super Bowl of all times in San Francisco.
By mid season Andrew Luck had lost the big game against Tom Brady and the Patriots, but thrashed Peyton Manning and the Broncos.
With Oliver Luck the NFL Europe had lost a great Sports Diplomat, whose outstanding language abilities have contributed a lot to what is NFL Football today in Germany.
He had spent a lot of time with the Frankfurt Galaxy and Rhein Fire, where he had adapted well enough to the German mentality to present American Football in the best possible way. Certainly Europe is Europe and not everything that has been made in the US is bound to go down well with the European fans.
So it has definitely been one of his great achievements, to bring these different mentalities together, resulting in two German Teams, that grew strong enough to even challenge the still No. 1 Sport soccer at times and in certain areas.
Later NFL Europe President Bill Peterson had told us, that Oliver Luck went back to Texas, allowing himself a little time to breath, since he has committed all of his life to Football since he was a kid.
With a bit of Luck, the NFL fans will see him back one day at some new position, where his transcontinental abilities and experience can open new horizons.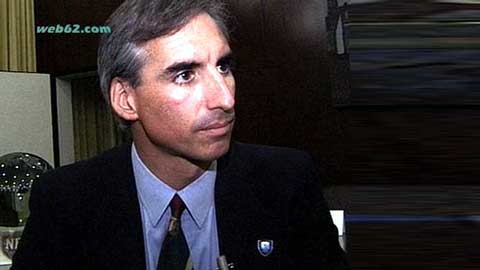 Oliver Luck NFL Europe President
Oliver Luck Interview @ World Bowl 1999
Video

With the rise of his highly talented quarterback son Andrew Luck, the former president of the NFL Europe will now be watching the 2015 NFL season with a very special interest.
Congratulations Mr. President!