Berlin Thunder

vs. Rhein Fire 2003
World Bowl 2001 & 2002 were conquered by the Berlin Thunder and the opening game against Rhein Fire had brought a record breaking 16.000 into the new Olympic Stadium, which is going to be become one of the finest venues for sports in the whole of Europe.
Thunder head coach Peter Vaas was overwhelmed by the atmosphere and the vibe on the afternoon had been very special.
Nevertheless, the Fire possey had walked in with some confidence led by QB Nick Rolovich from the Denver Broncos, who was hungry for a first win after an unlucky defeat at home against the Admirals in week 1.
Berlin Thunder videos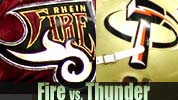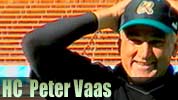 Peter Vaas pre-game interview
Video Interview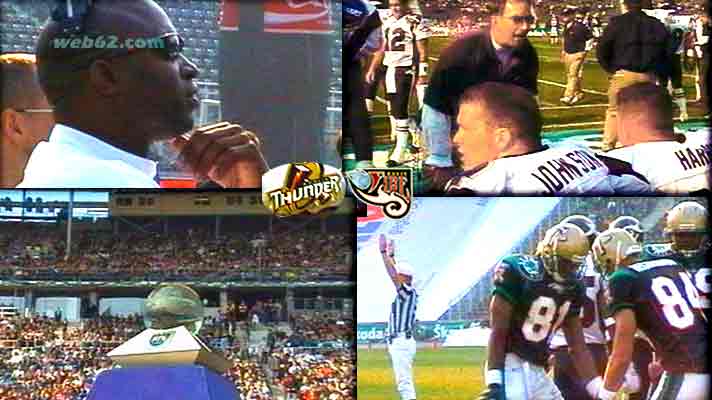 Berlin Thunder @ Rhein Fire 2003
The Fire had been more efficient to win the game by 28–21.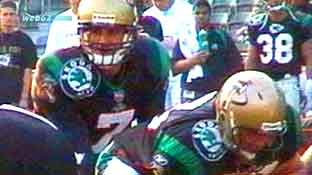 Quarterback Phil Stambaugh could complete 13 from 19 passes for 130 yards and 1 TD, what did earn him a rating of 83,2.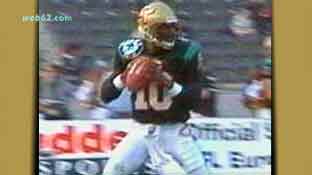 Thunder quarterback Henry Burris from the Chicago Bears might have felt some sort of home pressure and could not convince as expected with a low rating of 42,3 which was based on 7 from 23 passes completed for 83 yards.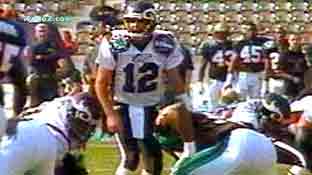 Quarterback Nick Rolovich from the Broncos did step up well together with RB Autry Denson from the Detroit Lions.
He impressed with a QB rating of 116 and 12 out of 17 passes completed for 144 yards and 1 TD. The longest was over 36 yards showing, what kind of a good arm he has.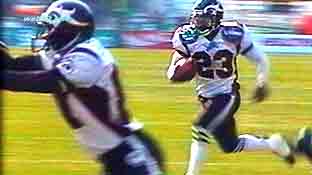 Autry Denson from the Detroit Lions was aiming for a huge season and at Thunder he had rushed for 114 yards and 1 TD with 18 attempts, what head coach Pete Kuharchek did call a "good work" at the press conference after the game.
Helpful in this situation was WR Lavell Boyd from the Texans.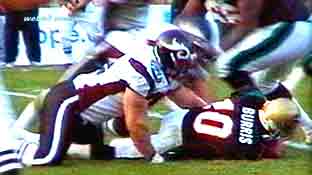 Speedy and strong defender Bastian Lano was able to sack qb Henry Burris.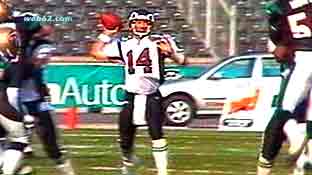 Quarterback Chris Greison from the Dallas Cowboys had looked good with a rating of 118,1 for 3 passes from 6 completed for 50 yards and 1 TD.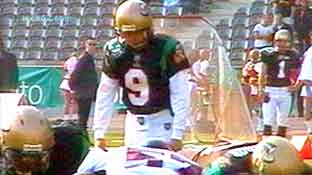 Another weak spot was the performance on special teams with missed out opportunities by Axel Kruse.
RB Sedrick Irvin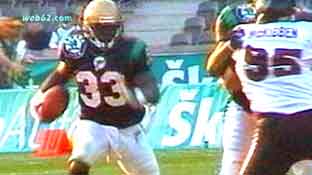 Sedrick Irvin had been with the Detroit Lions for 20 games, 4 TDs and 182 yards before the Dolphins did allocate him to the Berlin Thunder.
Born in Miami, FL on March 30 in 1978
College: Minnesota
Height: 5-11
Weight: 226