Frankfurt Galaxy

vs. Berlin Thunder 2007
During season 2007 the Galaxy did not give the Thunder the slightest chance and another fine home victory was claimed with a solid 35:7 in front of 30,125 raving fans.
Photos by Christian Roth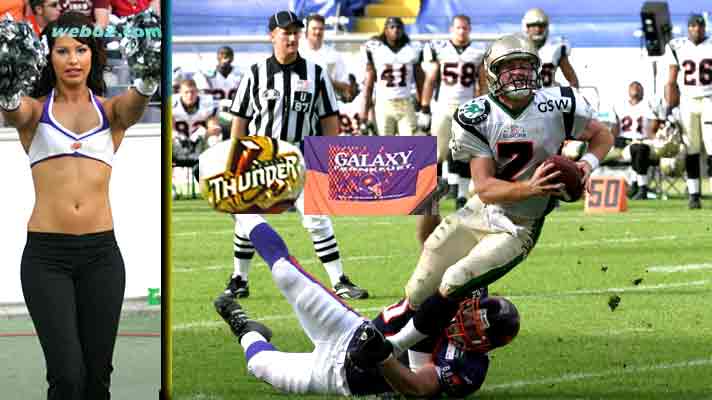 Galaxy vs. Thunder 2007
One out of three sacks against quarterback Travis Lulay while the time of possession had been 33:10 for the Galaxy and 26:50 for the Berlin Thunder.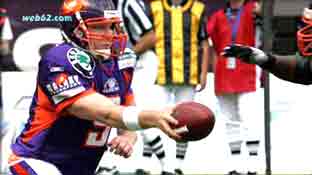 Quarterback Kevin Eakin had been the man on the field with 8 from 9 passes completed for 85 yards and 1 TD what earned him a rating of 143.1.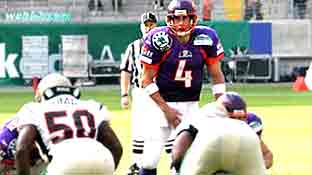 Quarterback J. O'Sullivan had not been in a good mood and only 5 from his 11 passes had arrived for 38 yards and a qb rating of 16,5.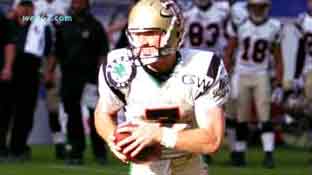 Thunder quarterback Travis Lulay had completed 10 from his 19 passes for 139 yards in addition to 13 rushing yards, 3 interceptions and 3 sacks for a rating of 37,7.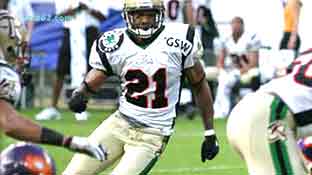 Cornerback Chris Thompson from the Chicago Bears could not prevent the tough 7:35 loss with his 3 tackles and 1 assist which had made him one of the best defenders.
RB Chris Barclay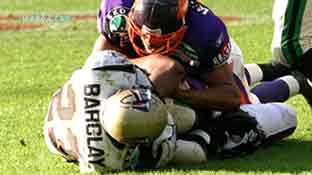 Running back Chris Barclay had been with the Titans for 4 games in 2007 and he had come from the Cleveland Browns in 2006. And with 12 caries for 122 yards and 1 TD he had been the best rusher on the field. He also had 2 receptions for 35 yards.
Born in Louisville, Kentucky on November 15 in 1983
College: Wake Forest
Height: 5-10
Weight: 180
TE Charles Davis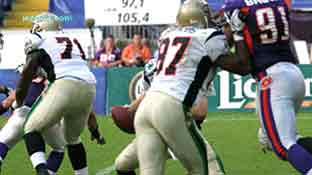 Tight end Charles Davis had shown 2 receptions for 40 yards and he came from the Carolina Panthers.
Born in Fraser, MI on March 13 in 1983
College: Miami
Height: 6-6
Weight: 260
K Andrew Jacas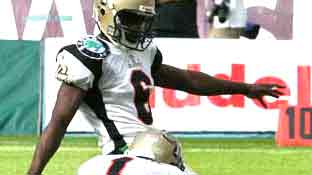 Kicker Andrew Jacas had an easy afternoon in the sun while he remained clean with a 1/1.
Born on July 27 in 1982
College: Fort Valley State
Height: 5-11
Weight: 185
S Demario Williams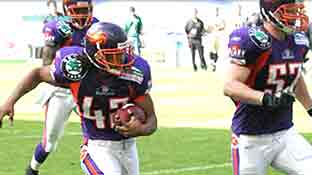 Safely Demario Williams had scored a great 33 yards interception.
Born on August 16 in 1983
College: Gardner-Webb
Height: 6-1
Weight: 210
RB Sha-ron Edwards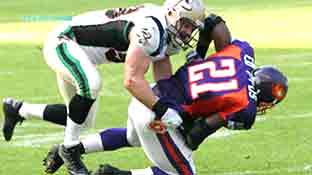 Running back Sha-ron Edwards had scored 84 yards and 1 TD with his 20 carries besides 1 yard with 1 reception.
Born on July 16 in 1981
College: Illinois State
Height: 6-0
Weight: 220
S Oliver Fleming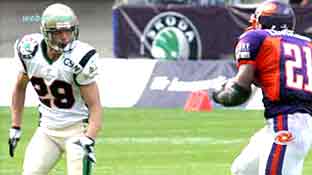 Thunder safety Oliver Fleming had to stop UK National Jermaine Allen.
Born on February 11 in 1980
College: none
Height: 6-3
Weight: 208