Frankfurt Galaxy

at Rhein Fire 2003
The Galaxy had managed to win the World Bowl against the Rhein Fire up at the Scottish Claymores, but before the first game was lost at the Schalke Arena with 7-14 in front of 42,324.
Some kind of Football in a sixties style was expected by defensive coordinator Ed O`Neil and with a 34:57 possession time against 25:03 the Galaxy had been pretty busy on that evening, but without being able to convert their drives into touchdowns.
vs. Fire
And then at home the Galaxy did step on the gas when slaughtering their rival with 38-7 in front of 25,539 fans.
Galaxy coaches on video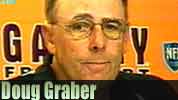 Before the match Frankfurt Galaxy head coach Doug Graber had once again reached a 6–4 season but this time it was sufficient.
Doug Graber pre-game interview 2003
Video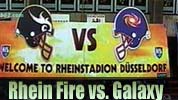 Watch the original game video clip from season 2003 when 56k modems were the bottleneck for Internet TV.
Video