Frankfurt Galaxy

at Rhein Fire 2003
The Galaxy had managed to win the World Bowl against the Rhein Fire up at the Scottish Claymores, but before the first game was lost at the Schalke Arena with 7-14 in front of 42,324.
Some kind of Football in a sixties style was expected by defensive coordinator Ed O`Neil and with a 34:57 possession time against 25:03 the Galaxy had been pretty busy on that evening, but without being able to convert their drives into touchdowns.
vs. Fire
And then at home the Galaxy did step on the gas when slaughtering their rival with 38-7 in front of 25,539 fans.
Galaxy coaches on video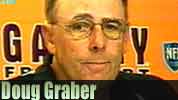 Before the match Frankfurt Galaxy head coach Doug Graber had once again reached a 6–4 season but this time it was sufficient.
Doug Graber pre-game interview 2003
Video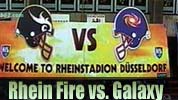 Watch the original game video clip from season 2003 when 56k modems were the bottleneck for Internet TV.
Video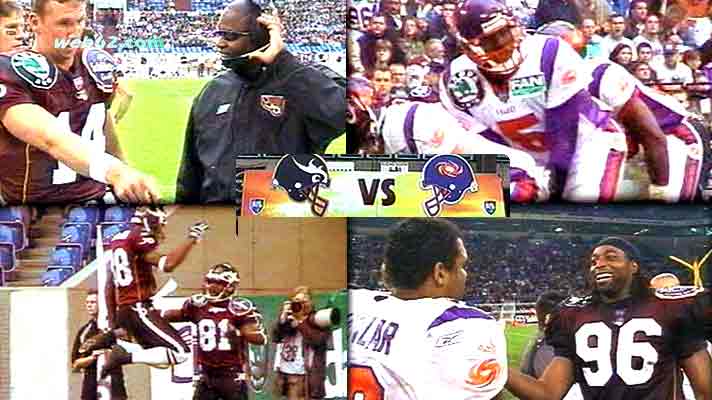 Galaxy @ Rhein Fire 2003

Frankfurt Galaxy had brought QB James Brown, who had completed 24 from 42 passes for 290 yards, 2 interceptions and no TD in addition to his 3 rushing attempts for 22 yards what had earned him a qb rating of 58,6.
RB Jonas Lewis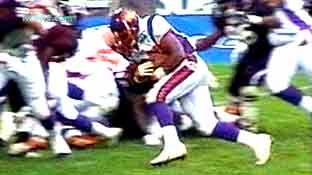 Surprisingly running back Jonas Lewis made the top rusher while scoring 1 TD and 64 yards with his 16 carries.
WR Marc Lester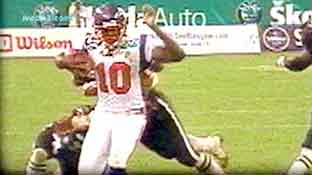 Ravens receiver Marc Lester had caught 3 passes for 34 yards and he was connecting well with his qb James Brown.
K Ralf Kleinmann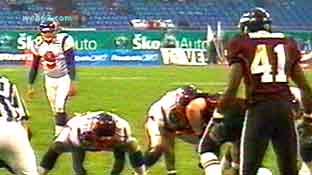 Galaxy head coach Doug Graber had not been too pleased about Kicker Ralf Kleinmann, whose 32 yard field goal attempt in the fourth quarter got blocked by Rhein Fire's Jesse Warren.
Rhein Fire defense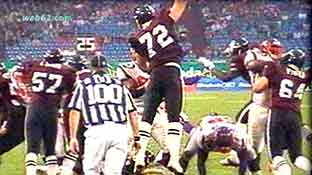 Kicking had been difficult for the Galaxy against such a fast and agressive defense with the tall and high jumping "Tower" Bastian Lano in the middle, who could have easly made it on any Basketball team as well.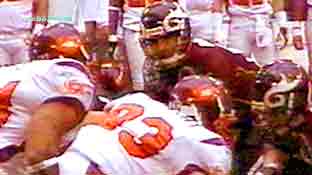 Rhein Fire had started with Denver Broncos QB Nick Rolovich, who had converted 4 from 7 passes for 50 yards, what did earn him a qb rating of 79,5.
Nick Rolovich photos with info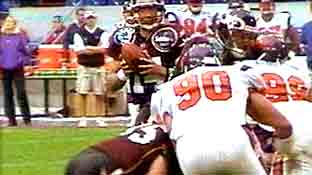 Quarterback Chris Greison was under attack by Daniel Benetka and Luiz Almenza, but he succeeded with 9 from 17 passes for 115 yards and 1 TD, what gave him a qb rating of 94,0.
Later it came out, that he had played with a broken nose.