Frankfurt Galaxy gamedays on photos, videos
Frankfurt Galaxy
at Rhein Fire 2003
While the Rhein Fire had lost their momentum in Frankfurt the Galaxy was gathering vast amounts of confidence for a third meeting in the World Bowl.
Galaxy coaches on video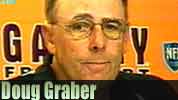 Before the match Frankfurt Galaxy head coach Doug Graber had once again reached a 6–4 season but this time it was sufficient.
Doug Graber pre-game interview 2003
Video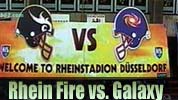 Watch the original game video clip from season 2003 when 56k modems were the bottleneck for Internet TV.
Video
James Brown - Jonas Lewis TD
RB Jonas Lewis was kind of sneaking over the line after his 3 yards run for the first TD of the game.

Quinn Gray from the Jacksonville Jaguars came up with a fine performance that was rated with 107,6 after 7 from 12 passes completed for an amazing 206 yards and two TDs. In particular one pass for 82 yards had been more than remarkable.
But also RT Kendrick Rogers from the Cardinals had again justified his starting role.
More Quinn Gray photos and info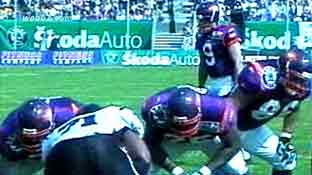 Kicker Ralf Kleinmann had shown drastic improvements compared to week 5.
WR Marc Lester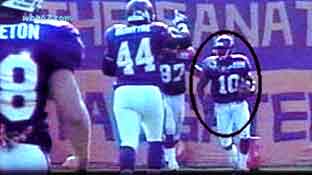 Ravens' receiver Marc Lester had converted a 61 yards pass from Quinn Gray into a TD.
Rhein Fire coaches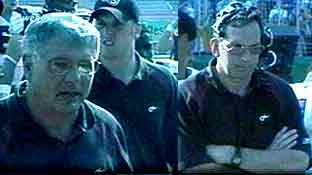 Defensive coordinator Ed O`Neil and his head coach Pete Kuharchek had not been able to get their team running in that lovely sunshine weather at Wald Stadium.
Rhein Fire defense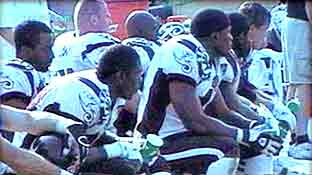 Rarely a Rhein Fire defense had looked so depressed and only a few weeks before the Galaxy had not been able to score more than 7 points.
© web62.com Free Internet TV since 1998