Scottish Claymores

at Rhein Fire 2001
The game was widely decided by Phil Stambaugh, who had been the best qb on the field.
Scottish Claymores videos
Game video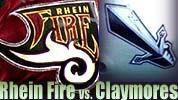 Scottish Claymores 2001 at Rhein Fire

Claymores vs. Rhein Fire 2001
Quarterback Clint Stoerner and TE James Whalen had been a great show, that was allocated to the Claymores by the Dallas Cowboys. And also with Randy Palmer from the Buccaneers the connection went well.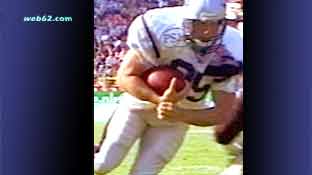 Precision was shown by Clint Stoerner with also a neat pass to Randy Palmer from the Buccaneers who had caught 2 passes for 13 yards.
Born on November 12 in 1975
College: Texas A & M
Height: 6-4
Weight: 235
RB Anthony Gray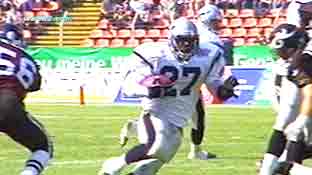 Running back Anthony Gray had impressed with 2 catches for 20 yards and 85 rushing yards with 17 attempts.
In week 6 he stood out with 2 TDs against the Admirals at Hampdon Park, which made him the matchwinner.
G Kendell Mack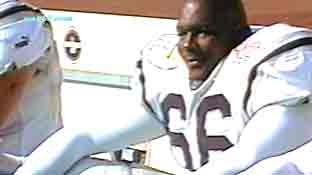 Kendell Mack was also enjoying the sunshine and during the 2001 NFL season he had been with the Buccaneers.
Born on July 18, 1975 in New York, NY
College: Auburn
Height: 6-4
Weight: 322
Whalen & Gregg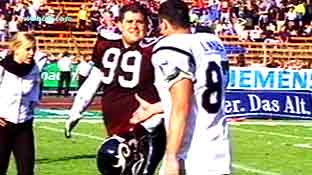 Dallas Cowboys James Whalenand Kelly Gregg were shaking hands after the end of a hard fought match.
Doug Miller & Nick O'Brien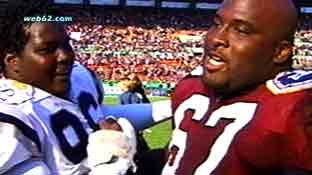 Another friendly handshake was seen between Doug Miller from the Falcons and guard Nick O'Brien after the close match.