Berlin Thunder

@ Team 2001
Head coach Peter Vaas had created a very strong Berlin Thunder during season 2001 and in the end they had won the World Bowl against the Barcelona Dragons, who had a superb offense with qb Jarious Jackson.
WR Ahmad Merritt had been one of the stars on board, who was coming from the Chicago Bears.
LB Dax Strohmaeyer gave a video interview after the World Bowl win in Amsterdam.
Video
Berlin Thunder team 2001
Bentley | Earp | Gustin | Guynes | Hagood | Heckenbach | Hill | Jones | Kruse | Kalich | Kuci | Merrit | Moorman | Nuno | Osborne | Phillips | Quinn | Stukes | Thompson | Washington | Washington T.J. | Wesley | Williams | Yancy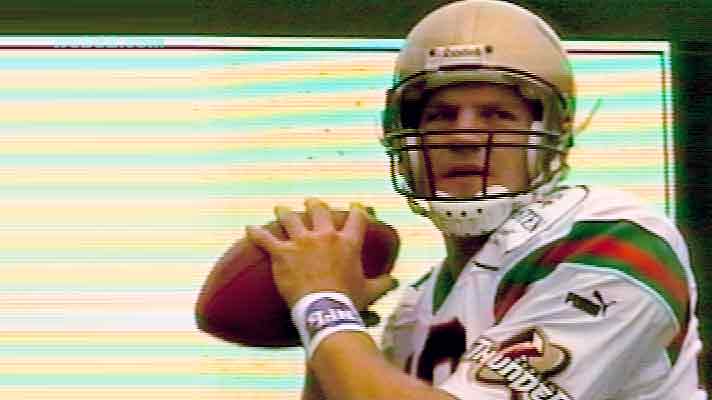 QB Jonathan Quinn
Berlin Thunder's 2001 quarterback Jonathan Quinn had played well at the World Bowl in Amsterdam.
Jonathan Quinn video interview and photos
RB Madre Hill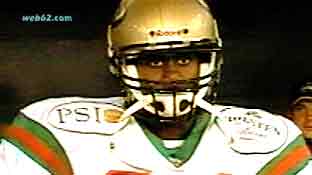 Running back Madre Hill had made it on the rosters of the Cleveland Browns and the Oakland Raiders, where he was on seven games over three seasons, but he remained without any action on the field. Back at Rhein Fire 2001 he had scored 4 rushing yards with 5 carries and 2 receptions for 17 yards.
Born on January 2, 1976 in Malvern, Arizona
College: Arkansas
Height: 5-11
Weight: 199
G T. J. Washington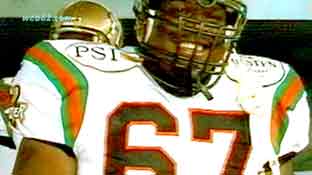 Guard T. J. Washington had been with the Carolina Panthers, but without appearing on any game.
Born on July 1 in 1974
College: Virginia Tech
Height: 6-4
Weight: 335
DT Thomas Washington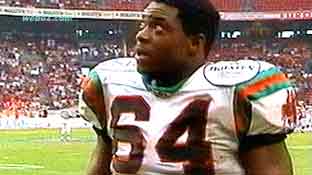 Chiefs DT Thomas Washington had been with the Kansas City Chiefs.
Born on December 12 in 1976
College: Winston-Salem State
Height: 6-3
Weight: 310
LB Joe Wesley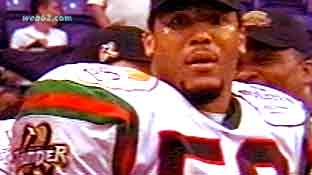 Jaguars LB Joe Wesley had also spent two season at the 49ers before he did come over to join the Berlin Thunder.
Born on November 10, 1976 in Jackson, MS
College: LSU
Height: 6-1
Weight: 229
RB Rodnick Phillips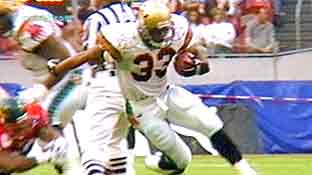 Rodnick Phillips had amazed the Thunder fans in Europe, but unfortunately the Seattle Seahawks did not ad him to their roster after a few talks and some testing.
Born on November 27 in 1977
College: Southern Methodist
Height: 5-11
Weight: 211
TE Scot Osborne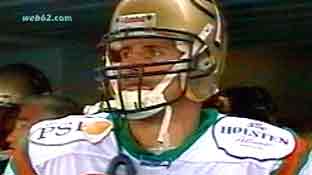 Berlin Thunders Scot Osborne had caught 2 passes for 17 yards at Rhein Fire and in the NFL he had spent 2001 at the Buffalo Bills and 2003 at the Cleveland Browns without being on any game.
Born on November 30, 1977 in Asheville, NC
College: William & Mary
Height: 6-4
Weight: 258
DB Dwayne Stukes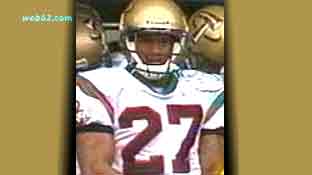 Dwayne Stukes had been close to catch a rooster spot at the Pittsburgh Steelers before he came to the Berlin Thunder for two seasons, after which became associated with the Tampa Bay Buccaneers, but without catching a roster spot.
Born on January 24 in 1977
College: Virginia College
Height: 5-11
Weight: 187
TE Carlos Nuno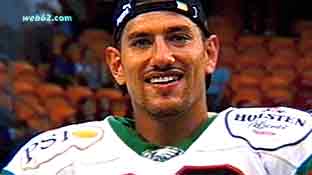 Tight end Carlos Nuno had been in talks with the Eagles, but he couldn't land a job in the NFL after his superb NFL Europe campaign during which he had caught 6 passes for 36 yards at Rhein Fire and 2 passes for 11 yards in the World Bowl.
Born on October 2 in 1975
College: Brigham Young
Height: 6-4
Weight: 260
C Ryan Kalich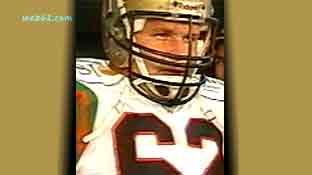 Center Ryan Kalich had been in talks with the Redskins, but in the end he wasn't able to catch a slot in the NFL.
Born on November 11 in 1976
Height: 6-2
Weight: 299
WR Jeremy Earp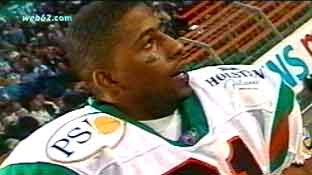 Jeremy Earp had been a Thunder wide receiver, who had spent one season with the Minnesota Vikings, but without being on any game.
Born on July 23 in 1974
College: Wisconsin Lacrosse
Height: 6-2
Weight: 208
TE Jay Hagood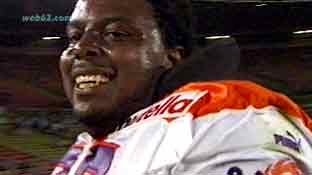 Tight end Jay Hagood had been with the New York Jets for the 1997 NFL season and 2001 was his third year in the NFL Europe, where his World Bowl win with Frankfurt Galaxy in 1999 had been a big highlight.
Born on July 23 in 1974
College: Wisconsin Lacrosse
Height: 6-2
Weight: 208