Berlin Thunder

@ Rhein Fire 2001
Head coach Peter Vaas had created a very strong Berlin Thunder during season 2001 and they had already won against Rhein Fire at home.
And then at Rhein Fire both teams were competing for the second spot in the World Bowl for a final clash with the Barcelona Dragons under head coach Jack Bicknell.
Obviously the Berlin Thunder had a tough team to challange and Pete Kuharchek was suffering from a lack of receiver and running back options, which had forced QB Gio Carmazzi to show more of his running abilities.
In fact, he had moments, when the Thunder defense had not been able not follow his moves.
Berlin Thunder videos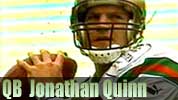 QB Jonathan Quinn post-game interview 2001
Video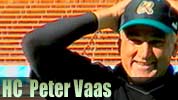 Peter Vaas pre-game interview
Video Interview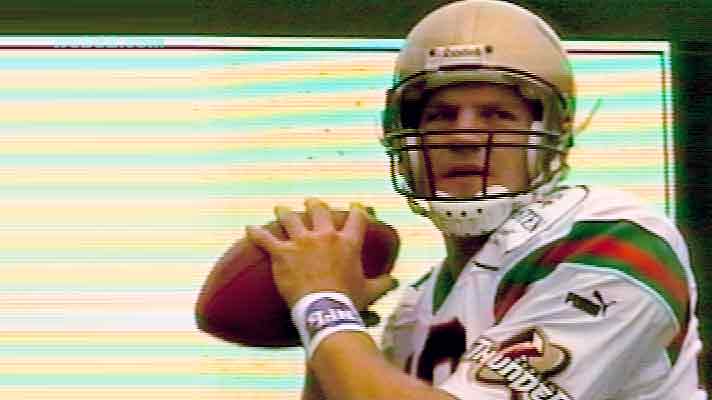 QB Jonathan Quinn
Berlin Thunder's Jonathan Quinn had been preparing himself for the important game with great intensity and certainly, he had been the better quarterback on the field.
But in front of media and cameras he had shown the most arrogant performance of all NFL Europe players, from which all were friendly, competent and capable.
Jonathan Quinn video interview and photos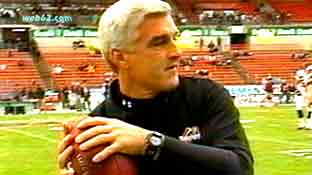 Berlin Thunder had been on their way to win their first World Bowl and Peter Vaas had done a brilliant job to make it happen.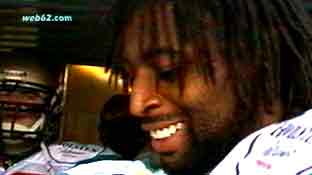 Thunder had also shown the smile of a Rasta man before the game.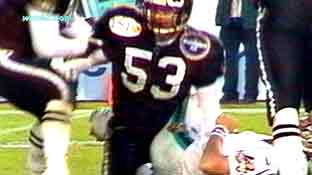 Scott Zimmerman had been the best defender on the field with nine tackles, three assists and this sack on the photo, what was more than twice as much than what his best team mates were able to come up with.
Smith and Sands had been the second best with 4 tackles and 2 assists.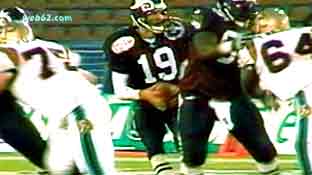 Rhein Fire's 49ers' QB Gio Carmazzi had completed 10 out of 16 passes for 99 yards and he also had added 63 rushing yards and all without being intercepted while Phil Stambaugh from the Saints got once interception and while completing six out of 10 passes for 89 yards.