Berlin Thunder

@ Team
Wes Chandler was the first head coach of Berlin Thunder and 3 wins and seven losses had been his score for reaching 6th place.
Berlin Thunder team
Bowman | Curtis | Dittoe | Edwards | Heckenbach | Kruse | Kuci | McEndoo | Shamburger | Taylor | Thomas | Ward | Warren | Washington TJ | Washington V.


Wes Chandler and Chris Dittoe
Head coach Wes Chandler and his quarterback Chris Dittoe did not have too much fun in Duesseldorf.
WR Mike Bowman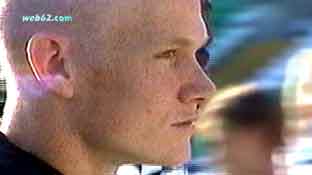 Receiver Mike Bowmans had not made it on any of the NFL teams.
Born in Interlachen, FL on September 16 in 1974
College: Valdosta State
Height: 6-1
Weight: 198
TE Isaac Curtis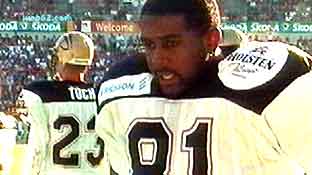 Tight end Isaac Curtis was under the radar of the Jacksonville Jaguars.
Born on January 30 on 1974
College: Kentucky
Height: 6-3
Weight: 251
T Michael Edwards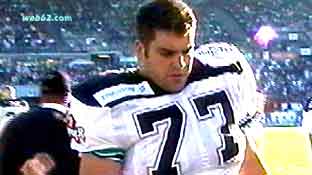 Michael Edwards did play for 2 seasons in Berlin.
Born on July 11, 1975
College: Nevada
Height: 6-6
Weight: 290
C Jason McEndoo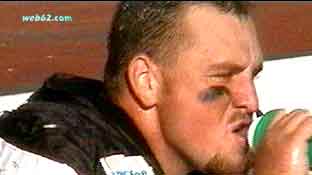 Center Jason McEndoo was selected by the Seattle Seahawks for the 1998 NFL season before he joined the Thunder.
Born on February 25 in 1975
College: Washington State
Height: 6-6
Weight: 315
S Tre Thomas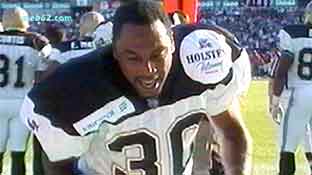 Safety Tre Thomas had been on 2 games for the New York Giants during the 1998 NFL season before he came to Berlin.
Born in Houston, Texas on September 12, 1975
College: Texas
Height: 6-1
Weight: 216
DB Cliffton Shamburger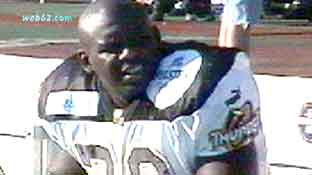 Cliffton Shamburger was in touch with the Colts and he also went to Scotland for a dew weeks.
Born on July 22 in 1974
College: Troy State
Height:5-9
Weight: 190
WR Tyrone Taylor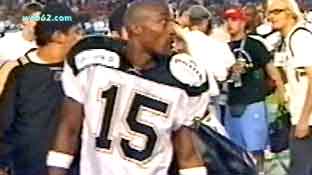 Tyrone Taylor from the San Diego Chargers had caught 21 passes for 255 yards.
Born on August 29 in 1976
College: Sacramento State
Height: 5-10
Weight: 170
G Brent Warren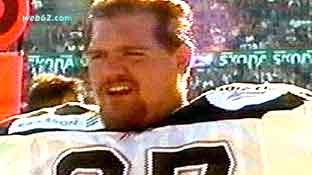 Brent Warren had strengthened Berlin Thunder in 1999 and for season 2000 he came back as a protected player.
At the Patriots Brent Warren had been for one year.
Born on November 2 in 1975
College: Syracuse
Height: 6-5
Weight: 338
LB Phillip Ward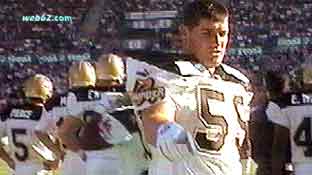 Phillip Ward had been with the Rams and the Colts before he earned himself a spot at the New Orleans Saints by his campaign at the Thunder.
Born in Gardena, CA on November 11 in 1974
College: UCLA
Height: 6-2
Weight: 235