Scottish Claymores

Team and players 2000
Dallas Cowboys owner Jerry Jones had played it safe by allocating some of his hopefulls to the Rhein Fire and some to the Hounds of Scotland, who had come out second by the end of the season and fully ready to play a World Bowl.
Duane Hawthorne, Deion Mitchel and Noel Scarlett had been under his radar, where in the end only one of them had caught a roster spot in Dallas.
Season 2000 got also marked for the last World Bowl berth, the presence of Aaron Stecker and the resignation of head coach Jim Criner.
Scottish Claymores team 2000
Allen | Blackwell | Blenman | Brady | Cavil | Crandell | Christofferson | Couper | Curry | Daft | Dingle | Finkes | Gamble | Glover | Gibson | Hart | Hawthorne | Mason | Mitchell | Newell | Ray | Scarlett | Sciffres | Sellers | Snell | Stecker | Threats | Tovo | Ward
Scottish Claymores videos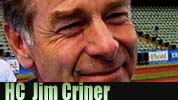 Jim Criner has been the head coach of the Scottish Claymores 2000.
Jim Criner photos and video interview
Game video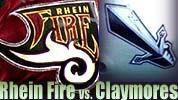 Scottish Claymores 2000 at Rhein Fire