World Bowl 2000

Claymores vs. Rhein Fire
Rhein Fire and head coach Galen Hall took World Bowl 2000 under the eyes of Dallas Cowboys owner Jerry Jones and it was the second time since 1998 that the championship had to get conquered at Frankfurt Galaxy.
The UK Band 5ive was playing at half-time and a superb NFL Europe chapter with Galen Hall and Jim Criner had come to a sudden end when both had declared their departure in the press conference right after the final.
In fact both were among all those NFL Europe activists, that were lured into the shady circles of the XFL.
World Bowl 2000 videos
NFL World Bowl Highlights and interviews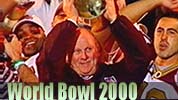 Scottish Claymores vs. Rhein Fire
Press conference video
Pre-game interviews with:
Jamie Baisley, Duane Hawthorne, Jeff Ogden, Kevin Drake and Mike Jones.
The game:
The teams rushing in video, part 1 video, part 2 video, Pepe Pearson`s TD video
Post-game:
Winning Cowboys video interviews and press conference with Danny Wuerffel video, Aaron Stecker video and the leaving head coaches Jim Criner & Galen Hall video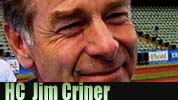 Claymores head coach Jim Criner gave his last interview right before the World Bowl.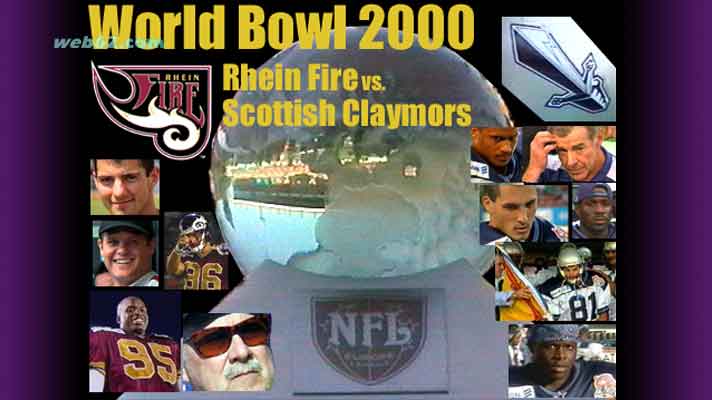 Welcome to World Bowl 2000
On the field were three forthcoming Super Bowl champions with Aaron Stecker for the Claymores and Anthony Mitchell alongside Chris Akins for the Rhein Fire squad.
Furthermore Galen Hall had Nick Ferguson, Marques Douglas, Danny Wuerffel, Chris Brymer, Ryan Neufeld and Jeff Ogden on the field, who all had played a role in the NFL later on, just like Duane Hawthorne.


What a farewell party it was for champion head coach of the year Galen Hall, who was on his way to run his home town XFL team in Orlando before he got hired by no one less than David Campo and Jerry Jones as an inspiration for the running back squad of the Dallas Cowboys.
3 World Bowl berths and two title wins have made Galen Hall the most succesful head coach in the League.
More photos and video interviews from Galen Hall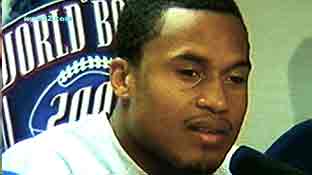 Tampa Bay Buccaneers' running back Aaron Stecker wasn't amused in the press conference after the loss, but in fact his 774 yards at the Scottish Claymores had helped to earn him a Super Bowl winning slot in the NFL besides a long career.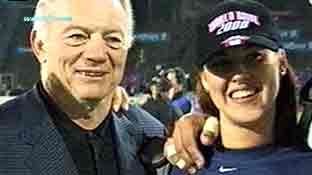 Dallas Cowboys owner Jerry Jones was expecting a win for his players thanks to having some of his men on both teams. And in the end he was congratulating Chris Brymer and his charming wife alongside Jeff Ogden and forthcoming Super Bowl champion Chris Akins.
C Chris Brymer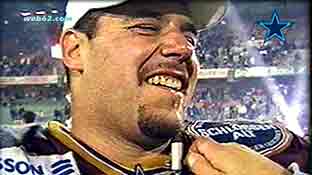 Center Chris Brymer from Dallas Cowboy had been overwhelmed with this success at the end of his second year in the Rhein Fire. Unfortunately things in Dallas went sour and he had to evacuate into the XFL.
Videos, photos, story, interviews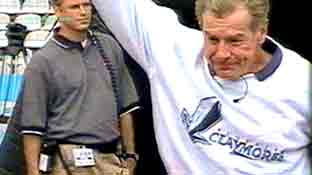 Scottish Claymores head coach Jim Criner had his last appearance in the NFL Europe, which had almost ended with a World Bowl triumph, but the last field goal attempt by the great Rob Hart would have had required a miracle.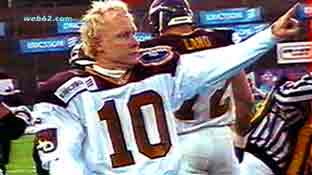 German national kicker Manfred Burgsmueller has become the oldest player in NFL history and in the World Bowl he had impressed with his precision when scoring the lead after 5 minutes by a 21 yard field goal.