World Bowl 2000
Claymores vs. Rhein Fire
The game itself had been extremely tight with both defensive lines performing at their best.
The best passer in the League Danny Wuerffel was kept down at 90 yards while the Fire defense had slowed down Aaron Stecker after his ferocious start for the only touchdown that the Claymores had been able to score.
World Bowl 2000 videos
NFL World Bowl Highlights and interviews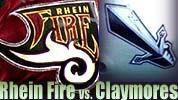 Scottish Claymores vs. Rhein Fire
Press conference video
Pre-game interviews with:
Jamie Baisley, Duane Hawthorne, Jeff Ogden, Kevin Drake and Mike Jones.
The game:
The teams rushing in video, part 1 video, part 2 video, Pepe Pearson`s TD video
Post-game:
Winning Cowboys video interviews and press conference with Danny Wuerffel video, Aaron Stecker video and the leaving head coaches Jim Criner & Galen Hall video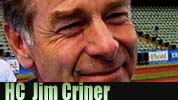 Claymores head coach Jim Criner gave an interview before the game.
Jim Criner photos and video interview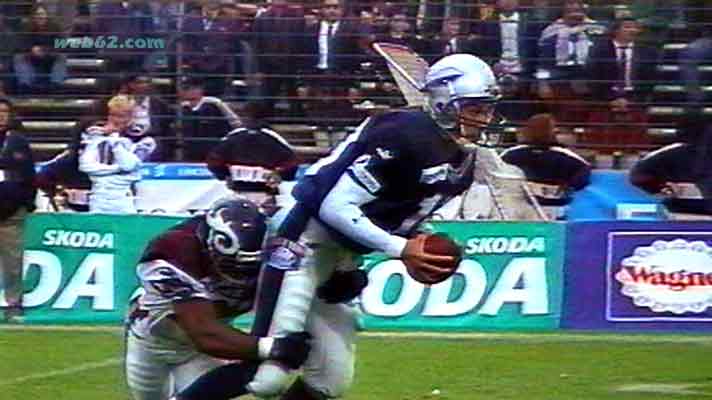 World Bowl massage
In the background Rhein Fire kicker Manfred Burgsmueller was probably wondering about what kind of a massage Claymores qb Kevin Daft had been receiving from his team mate.
As a matter of fact, Kevin Daft had to get over a few more sacks during the game.


The Final TD
Pepe Pearson was able to carry the ball over the line for the 13:10 lead thanks to some complex tackles including the one by Dusty Renfro (46), who had pulled down Claymores Cowboy Duane Hawthorne to create space for his running back. At the same time OT Craig Heimburger (75) from the Bills had taken out linebacker Ryan Olson (54). In fact a well structured move by offensive coordinator Mike Jones and his head coach Galen Hall, which had led to the win of World Bowl 2000.
Pepe Pearson`s TD in slow motion
video
Cheddar Heads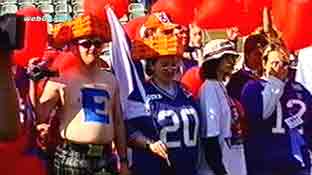 Another positive force in the stadium were the mighty Cheddar Heads on their World Bowl 2000 tour, who were spearheaded by their one and only team leader Preston.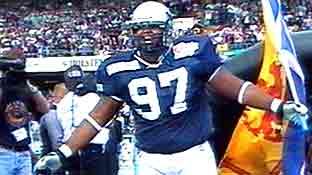 Defensive tackle Noel Scarlett had come from the New England Patriots and his great performance at the "Hounds of Scotland" got him moved to the Dallas Cowboys for one NFL season.
Fire in the house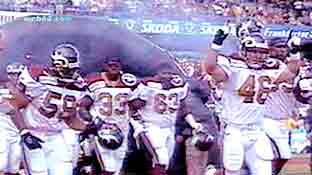 Already back in 1998 the Rhein Fire and Galen Hall had to pay a visit to the Frankfurt Galaxy in order to win their first World Bowl Championship.
DT Antonio Dingle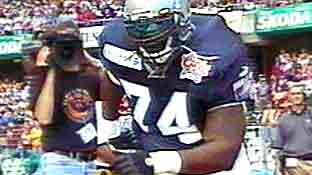 Defensive tackle Antonio Dingle had been with the Carolina Panthers for one season before he came to the Claymores, from where he did move on into the XFL.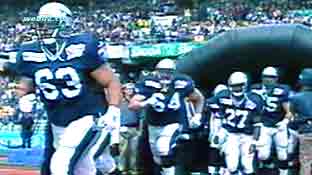 Announced as the "Hounds of Scotland" the Scottish Claymores were storming into the arena as if nothing could stop them, what was highly appreciated by the home audience, which had never liked the Rhein Fire team.