World Bowl 2000
Claymores vs. Rhein Fire
The game itself had been extremely tight with both defensive lines performing at their best.
The best passer in the League Danny Wuerffel was kept down at 90 yards while the Fire defense had slowed down Aaron Stecker after his ferocious start for the only touchdown that the Claymores had been able to score.
World Bowl 2000 videos
NFL World Bowl Highlights and interviews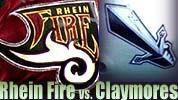 Scottish Claymores vs. Rhein Fire
Press conference video
Pre-game interviews with:
Jamie Baisley, Duane Hawthorne, Jeff Ogden, Kevin Drake and Mike Jones.
The game:
The teams rushing in video, part 1 video, part 2 video, Pepe Pearson`s TD video
Post-game:
Winning Cowboys video interviews and press conference with Danny Wuerffel video, Aaron Stecker video and the leaving head coaches Jim Criner & Galen Hall video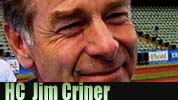 Claymores head coach Jim Criner gave an interview before the game.
Jim Criner photos and video interview