Diego Dimarques

Gipsy King
Music is free and libre so that also his Royal Highness, Prince Chitara is sharing his love for music when the distinct voice and guitar of Diego Dimarques from Catalonia is capturing the crowd at the Bodega restaurant in Phnom Penh City.
His custom built guitar feels wonderful and much respect for not daring to give an interview in English ... " I don't want to sound like a child ..."
Muchas gracias para ... pure words of Gipsy wisdom.
In fact, musicians have to be really good to try music for a career within the Gipsy culture, no space for miming ....
Diego Dimarques video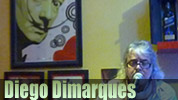 8 minutes with one of the legendary Gipsy Kings
Live Concert
Video