The African music channel
Zaire Party
Extremely impressive had been the large amount of gorgeous looking girls in the house for this large communion party.
Many gorgeous women had made the event some kind of special and many females from Zaire can surely compete with the prettiest in the world.
Some of the girls had great fun combining huge and frequent portions of food with their dancing.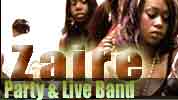 Zaire party with live band