Oboja Adu
Ghana Afro Pop
African Culture and African Drumming are surely the Roots of Oboja Adu from Ghana.
A Teacher, Dancer, Choreographer and Masterdrummer is just one part of his outstanding career.
With his "MultiKulti Group The Obonixxx" he is also taking a deep dive into classic Soul and Funk Music which has taken him in front of countless TV Cameras and on many stages.
At a huge New Party at Tanzhaus NRW he performed with a full size band called the Oboja and the Obonixxx.
He always assembles expert musicians and producers as well as extremely talented dancers to give his musical ideas the highest dynamics.
Oboja Adu has also recorded several CDs over the years that were released at his own Label Keteke.
More information can be obtained at
oboja.com - [email protected]
obohome.com - [email protected]
Africa videos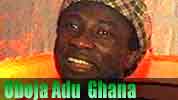 Oboja Adu live Music and interview
Video 1
|
Video 2