Ghana Highlife Party
Ghana people are experts in dancing, drumming, singing and party business.
High Life is the name of their most popular music, which is a mixture of Caribbean Reggae and African styles. But with much less slackness and aggressiveness that their Jamaican brothers sometimes can come up with.
It is a sunshine music with warm feelings on the the happy vibe just like their immense party culture.
Elegant outfits and dancing are important elements within the Ghana culture, in which music is defined as a "medicine".
Also in control of the stage action had been this very talented singer lady and everyone on the floor had felt inspired.
Ghana Highlife videos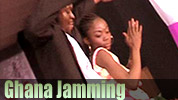 Ghana Highlife party with live singers