Ampofo Acquah
Music from Ghana
Ampofo Acquah´s Album was chosen for the final round of a 150 participants band contest @ a local TV station, where in the end a Rock Band made first price.
During his long career Ampofo Acquah has played on many stages and with different bands. Even names like Ginger Baker are on the list and of course all top musicians from Ghana love to have the typical Acquah guitar sound on their albums.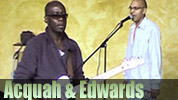 Ampofo Acquah & David Edwards
Video
Acquah, Edwards & badmanX
Video
"Lies" by Ampofo Acquah & badmanX
Video
Acquah, Notorios D & badmanX Live
Big apologies for the sound of this particular video which is pretty much like a rundown Jamaican Transistor Radio. But strictly in it for the arts and the vibes - the power of Ampofo Acquah, Notorious D and most members of the band including A.J. Camera was kind of special on this festival evening, when heavy sound was blasting all over the area for miles. Recorded in front of the P.A. with a built in microphone of a cheap old camera and compressed to match Internet transfer rates includes certain limits.
Live Video