The African music channel
Bloco Malagasy

Madagascar drummer girls
Impressive was the live performance of the Bloco Malagasy drummer girls, who are coming from some underprivileged areas in Madagascar.
They are a group of around twenty-five young ladies from which each year a group of is touring Thailand and Cambodia for a few weeks.
Their age is between 14 and 21 and all of them are enjoying schooling and education.
African Music videos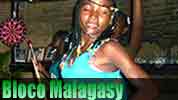 © web62.com The Free Internet TV network since 1998