Cologne Centurions

vs. Rhein Fire 2005
In his only season at the Centurions head coach Peter Vaas had missed another World Bowl entry after the 16–28 loss in front of an impressive 32,521 home audience.
Certainly it was a hard fought match with many spectacular moments which was taken by a concentrated Rhein Fire defense, which did not allow any end zone efficiency.
And with the departure of Peter Vaas the Centurions and the League had lost one of the only coaches, that have taken two World Bowls.
Centurions vs. Rhein Fire videos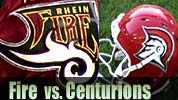 Game day coverage
Video 1 | Video 2