World Bowl 1999

Barcelona Dragons vs. Frankfurt Galaxy
Pat Barnes had been the other top NFL qb playing as the double-headed-monster, who had thrown 3 lovely touchdown passes among his 16 passes for 204 yards.
And his speed had caused serious damage to the Dragons defensive line.
World Bowl 1999 videos
NFL World Bowl Highlights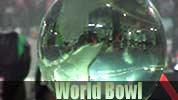 Dragons vs. Galaxy
Game video 1 | Game video 2
Pre-game interview with:
Dick Curl | Oliver Luck | T.Smith
The World Bowl Dance
Video


QB Pat Barnes
Pat Barnes was sent to Frankfurt on behalf of the Oakland Raiders.


Brian Finneran & Todd Bouman
Wide receiver Brian Finneran and Todd Bouman became solid NFL starters for several years.
And in the final Brian Finneran was able to convert a 5 yd TD pass from Todd Bouman.
Frankfurt Galaxy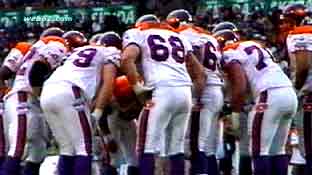 The great chemistry inside his team was explicitly mentioned by head coach Dick Curl during the interview.
Barcelona Dragons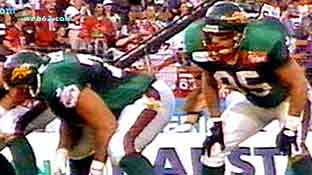 The Barcelona Dragons had dominated the first quarter by 10:3 when the Galaxy bounced back with a 14:0 in the second.
That was followed by a 7:7 in the third and a 14:7 in the 4th for a final 38:24 victory for the German franchise.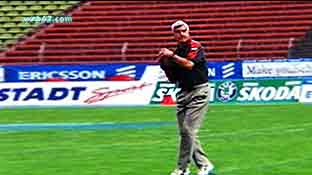 Only 2 years later quarterbacks/wide receivers coach Peter Vaas had been the head coach of the Berlin Thunder defeating Jack Bicknell and the Dragons at the Amsterdam 2001 World Bowl. Not to mention their consecutive title in 2002.
He must have learned from Jack Bicknell's family type of coaching, which had come out well when even the difficult Lawrence Phillips was well integrated when he got hugged by his team mate Ivan Imbernon after his unlucky injury.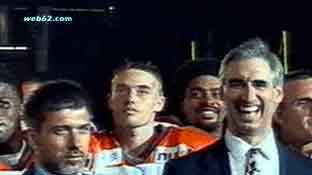 What a party it was after the Galaxy players and NFL Europe president Oliver Luck had entered the champions stage. As a former qb of the Houston Oilers he must have enjoyed the European Bowl a lot and meanwhile his son Andrew Luck has become one of the best paid quarterbacks in the NFL.