World Bowl 1999

Barcelona Dragons vs. Frankfurt Galaxy
During the regular season Frankfurt Galaxy had reached the World Bowl after having defeated the Rhein Fire twice.
And a third clash was avoided by a missed field goal against the Barcelona Dragons.
In fact, the Barcelona Dragons had dominated the entire season with their extremely strong roster led by Todd Bouman,who was just about to become a strong force in the NFL.
At the same time controversial Lawrence Phillips had been about to become a real scam at the 49ers and to end up even in jail a little bit later.
Instead his NFL Europe colleagues Brandon Noble and Chris Brymer had said, that it was always good fun to be on a team with him.
During his NFL Europe season Lawrence Phillips had rushed for more than 1000 yards in only 10 games.
World Bowl 1999 videos
NFL World Bowl Highlights and interviews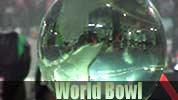 Dragons vs. Galaxy
Game video 1 | Game video 2
Pre-game interview with:
Dick Curl | Oliver Luck | T.Smith
The World Bowl Dance
Video