Totally Pompous !
German Designer Fashion
In fact Pompoeoes critics have a great chance to learn from these new artists, who are taking the whole of Fashion into the year 2.000.
Most likely Fashion and quality entertainment is going to be the most powerful tool to establish identity and to reach people.
Now Pompoeoes has shown an even stronger new collection and also several new license products will get launched soon in over a 1.000 stores.
They will become very big and perhaps even the next global cult name, based on full credibility as a result from their outstanding personal work and individual talents.
Now they are bound to cooperate with high finance to enable further expansions worldwide.
Pompoes Fashion videos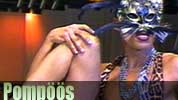 Watch the Pompoeoes Fashion Shows with an interview from Pompoes designer Harald Gloeckler.
CPD Show 1
With Brigitte Nielsen on the catwalk
Brigitte Nielsen Video
CPD Show 2
Interview with Pompoes designer Harald Gloeckler
Interview and show highlights
Video
Full Show & Interview
Video 1 | Video 2 | Video 3 | Video 4
Harald Gloeckler Graffiti
Video