Umit Unal
Fashion from Turkey
Since Hussein Chalayan has become large in London, the general interest in Oriental fashion has grown incredibly fast and Umit Unal has emerged as another very fine suggestion.
Tibet and the Himalayas had been an inspiring background for the innovative Turkish Designer, who frequently resides in India.
His family is big in the Turkish Textile Industry with maintaining several factories.
Also various Turkish Fashion groups are receiving regular collections from Umit Unal.
At his very first CPD appearance a line of new orders from Arabia and other parts of the world had fallen on him as well as some overwhelming applause after his show, which had indicated an extremely bright future for the artistic Turkish fashion designer.
Again in 2012 Umit Unal has presented a very strong collection at the cpd in Duesseldorf.
Umit Unal Fashion videos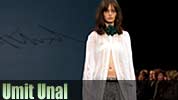 The very latest from Umit Unal at the spring cpd 2012
Fashion Show
Video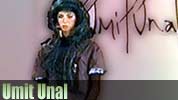 Many superb fashion shows at the CPD had come from Turkey's top designer Umit Unal.
Umit Unal Fashion Show
Video
Umit Unal Interview
Video
Umit Unal Fashion Show
Video
Umit Unal Fashion Show and interview
Video