Totally Pompous !
German Designer Fashion
The German Fashion Company Pompous had created two of the hottest Fashion Shows ever with sharpest NYC Drag Queens on the floor alongside celebrity model and actress Brigitte Nielsen, Prince Frederic von Anhalt, the Weather Girls, Gina Lollobrigida and other celebrities.
Now Prince Frederic von Anhalt claims to be the father of Annna Nicole Smith's kid ... and wants to enter politics in the USA.
Pompoes Fashion videos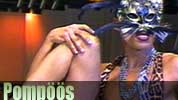 Watch some parts of the Pompoeoes Fashion Galas and a video interview with Pompoes Fashion Designer Harald Gloeckler.
CPD Show 1
With Brigitte Nielsen on the catwalk
Video 1 | Video 2 | Video 3
Brigitte Nielsen Video
CPD Show 2
Interview with Pompoes designer Harald Gloeckler
Interview and show highlights
Video
Full Show & Interview
Video 1 | Video 2 | Video 3 | Video 4
Harald Gloeckler Graffiti
Video