Tristano Onofri
Italian Designer Fashion
Over many years the great Italian Fashion designer Tristano Onofri had been one of the top stars @ at the CPD with his stunning Fashion Shows and nearly always some hot exquisite International models on the floor.
Here's photos and videos from various Tristano Onofri Fashion Shows to display some great Italian Designer Fashion.
That was Tristano Onofri Winter 2004/2005 on igedo.tv with a tremendous Fashion Show and an Interview.
Video
Tristano Onofri Fashion videos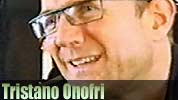 Explore CPD videos from top designer Tristano Onofri.
Tristano Onofri interview
Video

Tristano Onofri Fashion Show
summer 2004
Video 1 | Video 2
Tristano Onofri Fashion Show
summer 2003
Video 1 | Video 2
Tristano Onofri Fashion Show
summer 2002
Video 1 | Video 2
Tristano Onofri Fashion Show
summer 2001
Video 1 | Video 2
Tristano Onofri Fashion Show
summer 2000
Video 1
Video 2
Video 3