Totally Pompous !
German Designer Fashion
Currently married to the old and slightly scandalous Hollywood Diva Zsa Zsa Gabor the German Prince Frederic von Anhalt as once again smartly entered the limelight with his claim on being the father of Anna Nicole Smith's most recent kid.
Certainly Prinz Frederic is a smart fellow always in a mood to jump straight into any available cameras and headlines.
Even a year after his appearance on the their huge catwalk show Pompoeoes designer Harald Gloeckler had seemed to be more than upset about the selfish and vulgar style that Prince Frederic had displayed during his kind of funny performance.
Pompoes Fashion videos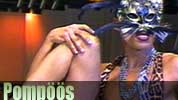 Watch the Pompoeoes Fashion Shows with an interview from Pompoes designer Harald Gloeckler.
CPD Show 1
With Brigitte Nielsen on the catwalk
Brigitte Nielsen Video
CPD Show 2
Interview with Pompoes designer Harald Gloeckler
Interview and show highlights
Video
Full Show & Interview
Video 1 | Video 2 | Video 3 | Video 4
Harald Gloeckler Graffiti
Video