Totally Pompous !
German Designer Fashion
In fact Frederic von Anhalt had walked all over the floor for at least 30 minutes smoking his inexpensive show off cigar believing to look sexy and intelligent.
For some time a German TV Station had tried to establish some regular programming with Prince Frederic but an obvious lack of style and quality had prevented any success since his education seems to be to far away from any aristocratic levels.
In fact he had been born as Robert Lichtenberg until he had adjusted his name to Fréderic von Anhalt when was adopted by the real but poor Marie Auguste Prinzessin von Anhalt, who had decided to make money out of her aristocratic status.
In 1980 Frédéric von Anhalt became sort of infamous through his marriage to the elderly Hollywood diva Sza Sza Gabor.
Pompoes Fashion videos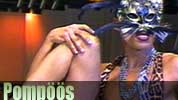 Watch the Pompoeoes Fashion Shows with an interview from Pompoes designer Harald Gloeckler.
CPD Show 1
With Brigitte Nielsen on the catwalk
Brigitte Nielsen Video
CPD Show 2
Interview with Pompoes designer Harald Gloeckler
Interview and show highlights
Video
Full Show & Interview
Video 1 | Video 2 | Video 3 | Video 4
Harald Gloeckler Graffiti
Video