Sonja Kiefer

Fashion from Germany
"Being dressed without being overdressed" has always been the main message of German top designer Sonja Kiefer.
Sonja Kiefer has left a partnership with Blacky Dress and is expanding from Munich also into the Middle East, which has emerged as a prime market for her.
Her fashion is fully on point comforting the feel of a modern body conscious woman.
Sonja Kiefer reflects the young urban feel with a fully streetsmart and sexy collection, which simply ignores barriers between couture and sportswear.
Over 150 stores all around the world offer SK Fashion to clients such as Janet Jackson who is also having fun with her fine suggestions.
Sonja Kiefer Videos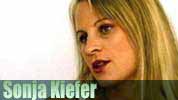 Summer 2001
Interview video
Winter 2002
Fashion Show video
Summer 2004
Collection video
Interview 2003
Video
Summer 2003
cpd Fashion show video
Winter 2001
Show video
Summer 2001
Fashion Show video