Vivienne Westwood
Vivienne Westwood has left all those Punk and Malcolm McLaren clichés way behind and her fashion has never been as exciting, as today.
Her collections have found a lot of friends all over the world and it feels good to see, that the Grand Dame of UK Fashion is moving ahead so well.
Mari Ot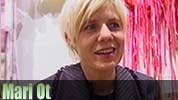 London-based designer Mari Ot, who had worked for one season at Miss Westwood.
Boy George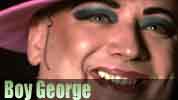 Boy George talked about Vivienne Westwood and Malcolm McLaren.

Vivienne Westwood

Vivienne Westwood
44 Conduit Street
London WIR 9FB
Tel: 44.171.287.31.88
Fax: 44.171.437.22.03

Gold Label
6, Davis Street
London W1
020 7629 3757

Photos by fashionfotos.com