Hamburg Sea Devils

@ Rhein Fire 2006
The Hamburg Sea Devils had almost won their game at Rhein Fire in front of 18,224 fans until a controversial decision and an interception had demolished their hopes for a very first win during the 2006 season.
Hamburg Sea Devils video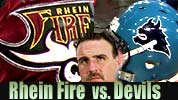 Game day coverage
Video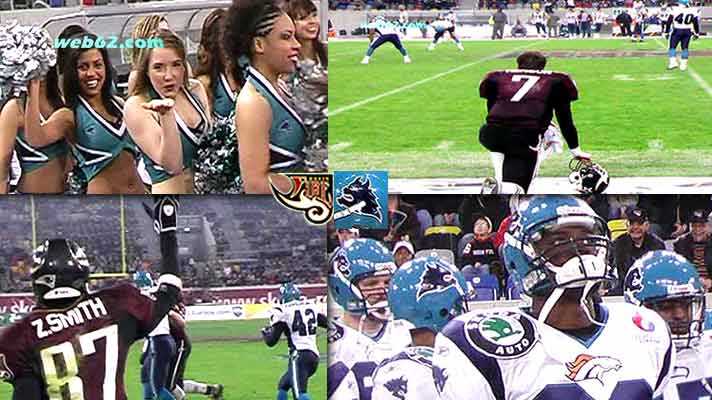 Sea Devils @ Rhein Fire 2006
The Hamburg Sea Devils had a possession time of 26:51 and the Rhein Fire 33:09 while the final score was 31:21. Especially the fourth quarter was bad for Hamburg when there offense was only for 4 minutes on the field.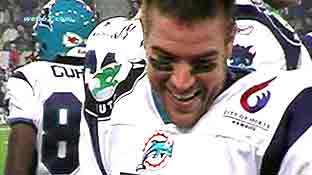 Dolphins quarterback Brock Berlin had rushed for 1 TD and he completed 10 from 22 passes for 102 yards and 1 TD in addition to 2 painful interceptions what earned him a 36.6 rating.
See more photos from Brock Berlin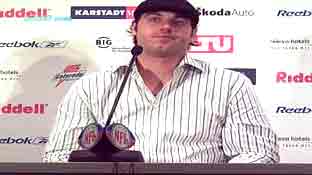 Towards the end of the game Drew Henson became the best performing quarterback on the field with a 120.2 rating for 14 from 23 passes completed for 192 yards and 2 TDs. And to make it happen Drew Henson had to become creative outside the system by rushing out of the pocket for several yards in order to connect to his old time Dallas Cowboys friend Zuriel Smith.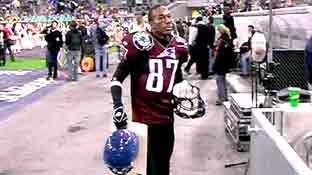 Zuriel Smith had shown 4 receptions for 59 yards and 2 TDs and 2 kickoff returns for 43 yards, what did earn him "Fire Player of the match" honors. And in the press conference after the game he had referred to those days, when he was playing at the Dallas Cowboys together with QB Drew Henson.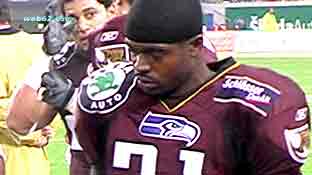 Corneback Reggie Austins came from the Seahawks and he had shown 1 tackle during the game. Earlier he had been on 18 games at the Chicago Bears over 3 seasons.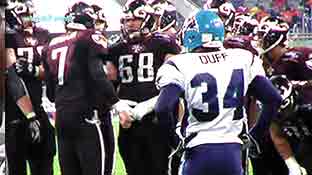 Vontez Duff came from the the New York Giants and he had 1 kickoff return for 15 yards, 3 tackles and one pass defense.
TE Wesley Duke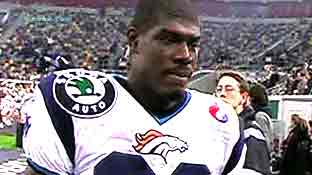 Wesley Duke from the Denver Broncos had caught 2 passes for 10 yards.
Born in Grand Prairie, TX on June 21, 1981
College: Mercer
Height: 6-5
Weight: 225
DB Rayshun Reed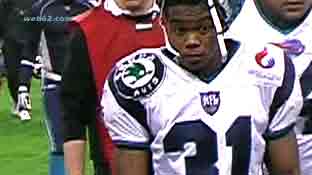 Rayshun Reed was able to catch a spot at the San Francisco 49ers where he appeared on 7 regular NFL season games.
Born in Columbus, GA on April 10 10 in 1981
College: Troy
Height: 5-9
Weight: 185
WR Ricky Bryant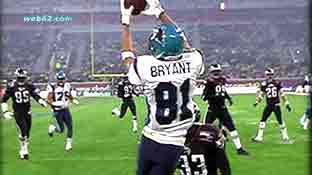 Receiver Ricky Bryant and Brock Berlin had produced a superb TD for an early lead and during the entire game he had caught a total of 2 passes for 41 yards. Already back in 2005 Ricky Bryant had been with the Sea Devils.
Born on March 24 in 1981
College: Hofstra
Height: 6-0
Weight: 185