Hamburg Sea Devils

Team 2006
The Hamburg Sea Devils were able to win at least the last 3 games of the 2006 season what earned them a fifth place under head coach Jack Bicknell.
Sea Devils Team 2006
Berlin | Bogle | Bryant | Bubin | Duff | Duke | Griffin | Hoffman | Jemison | Kilian | Lano | Marshall | Mayer | McFarland | McCready | Mortensen | Rabe | Reed | Shivers | Takavitz | Wright
Hamburg Sea Devils video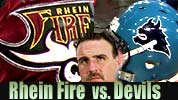 Game day coverage
Video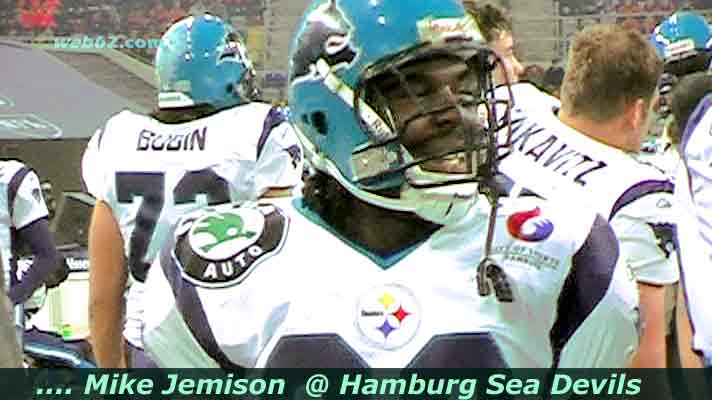 Hamburg Sea Devils 2006
Running back Mike Jemison had been one of the stars at the 2006 Hamburg Sea Devils and with 101 carries for 368 yards he became the team's best rusher. He also had 19 receptions for 148 yards.
QB James Kilian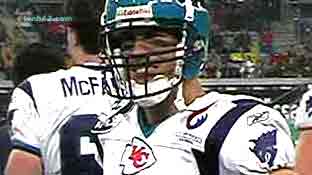 James Kilian became the second best quarterback with a 51.1 rating for 5 interceptions, 4 sacks, 3 TDs and 38 from 77 passes completed for 406 yards.
Born in Caldwell, Kansas on October 24, 1980
College: University of Tulsa
Height: 6-4
Weight: 215
QB Todd Mortensen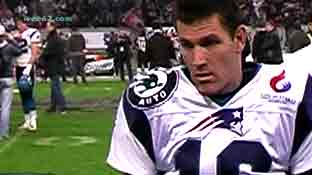 Todd Mortensen was allocated by the New England Patriots and he had tried it at the 49ers as well.
Born on July 12 in 1979
College: San Diego
Height: 6-4
Weight: 225
CB Vontez Duff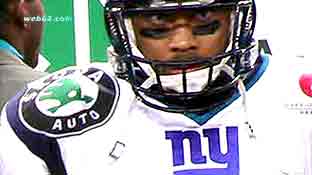 Vontez Duffhad come from the New York Giants to the Devils.
Born on March 8 in 1982
College: Notre Dame
Height: 5-10
Weight: 193
DT Keyonta Marshall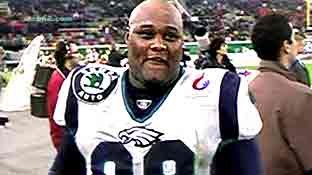 Keyonta Marshall had been on 1 game at the Egales but from Hamburg he went straight to the New York Jets.
Born in Saginaw, Michigan on August 13, 1981
College: Grand Valley State
Height: 6-1
Weight: 325
G Kyle Takavitz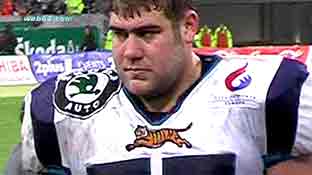 Kyle Takavitz had joined the Cincinnati Bengals after his stint in Hamburg.
Born on November 1 in 1983
College: Cincinnati
Height: 6-3
Weight: 310
T Phil Bogle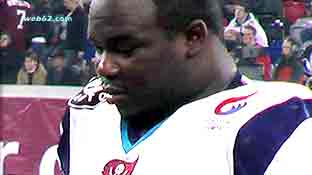 Phil Bogle had been with the San Diego Chargers for 15 games in 2003 and 2004 before he was sent to Hamburg by the Tampa Bay Buccaneers.
Born in Spring Valley, NY on September 27 in 1979
College: New Haven
Height: 6-3
Weight: 232
T Dylan McFarland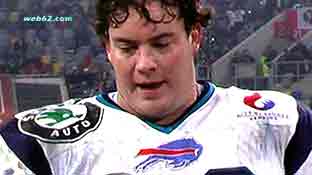 Dylan McFarland had been with the Buffalo Bills for 3 NFL seasons from 2004 until 2006.
Born in Kalispell, MT on July 11 in 1980
College: Montana
Height: 6-5
Weight: 290
C Augie Hoffmann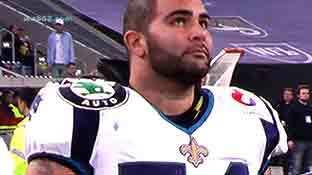 Augie Hoffmann did earn himself a spot at the 2006 New Orleans Saints.
Born in Park Ridge, NJ on February 21 in 1981
College: Boston
Height: 6-3
Weight: 217
LB Russell Rabe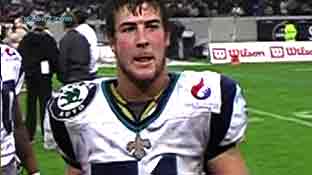 Russell Rabe was allocated by the New Orleans Saints, but after his Hamburg stint he went on the roster of the 2006 San Francisco 49ers for 1 season.
Born in Lake Holcombe, WI on June 21 in 1982
College: Minnesota-Duluth
Height: 6-2
Weight: 228
DB Jason Shivers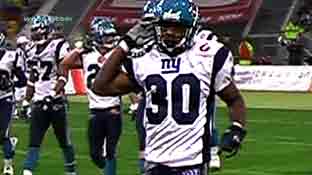 Jason Shivers had spent the 2004 NFL season at the Chicago Bears and at the St.Louis Rams.
Born in Phoenix, AZ on November 4 in 1982
College: Aeizona State
Height: 6-0
Weight: 195