World Bowl 2002

Thunder vs. Fire
The bands Status Quo and Faithless were in the house and 53,109 NFL fans were enjoying a warm and sunny day at the Duesseldorf Rhein Stadium, where the defending champion Berlin Thunder had come around to win the trophy against the hosting Rhein Fire, who had won the League with 7-3 ahead of their guests with a 6-4 record.
And during the course of an exciting World Bowl WR Dane Looker was about to become the game MVP and the Berlin Thunder the only team to win a back to back championship title under head coach Peter Vaas with 26-20.
World Bowl 2002 videos
NFL World Bowl Highlights and interviews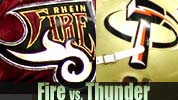 Fire Thunder vs. Thunder
video 1 | video 2 | video 3 | video 4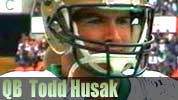 QB Todd Husak interview
Video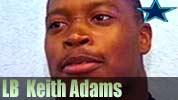 LB Keith Adams interview
Video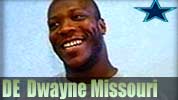 DE Dwayne Missouri interview
Video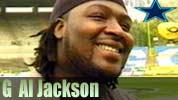 G Al Jackson interview
Video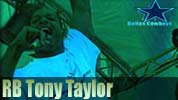 RB Tony Taylor interview
Video


Welcome to World Bowl 2002
What a triumph for Peter Vaas, who had once again won the trophy from an underdog position and this time against a fanatic crowd, which was shouting for nothing but the Rhein Fire.
Thunder all over