World Bowl 2001
Dragons vs. Thunder
In the two previous matches the Berlin Thunder defense was left clueless when Mike Green, Tony Simmons and Jarious Jackson were allowed to speed things up.
But their Amsterdam affair had brought a much tighter defense, which had been a real barrier in the end zone where the Dragons had failed to convert when they were sent home with just a field goal.
At the same time the well protected Jonathan Quinn had all the time in the world to connect in a spectacular manner with his receiver Dwaune Jones, who said thank you to a fairly sleepy Dragons defense, which had thought, that the game would be as easy as their first two clashes.
Also Ahmad Merritt had impressed with his touchdown while the Dragons had failed to convert their final drive in the game.
World Bowl 2001 videos
NFL World Bowl Highlights and interviews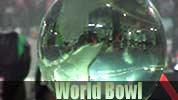 Barcelona Dragons vs. Berlin Thunder
Game video 1 | video 2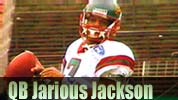 Jarious Jackson on the field
Video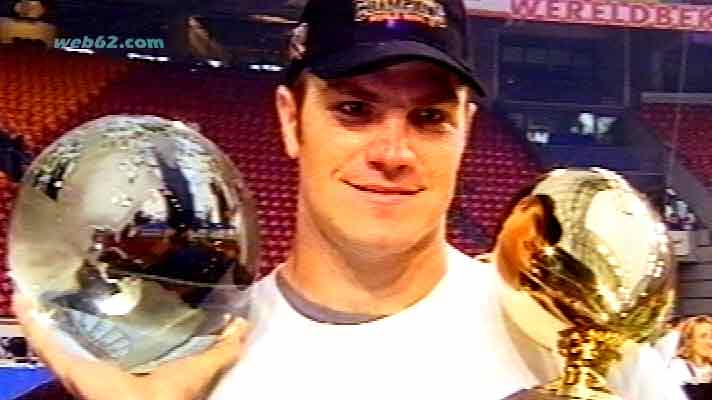 Jonathan Quinn World Bowl 2001
Quarterback Jonathan Quinn had been the MVP of the game and with 2,257 yards he had also been the best passer of the season.
Also in the World Bowl he had shown many big plays when 25 from his 38 passes had brought 308 yards, 3 TDs and only 2 interceptions.
Jonathan Quinn video interview and photos


Jarious Jackson Denver Broncos
Jarious Jackson had been an impressive quarterback at the Barcelona Dragons throughout the entire season. But in the World only 1 touchdown had not been enough and the Berlin Thunder defense had obviously done a very solid job.
Photos and video from Jarious Jackson
Berlin Thunder defense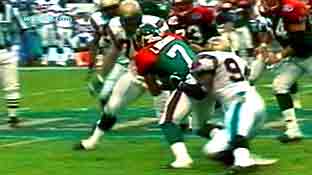 Barcelona Dragons quarterback Jarious Jackson had a very difficult standing against the very aggressive Berlin Thunder defense.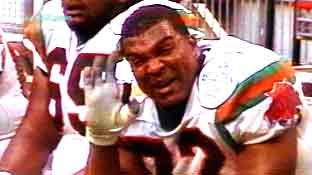 Berlin Thunders offensive tackle Sammy Williams from the Ravens had waved a friendly "Hi..." close to the end of the match.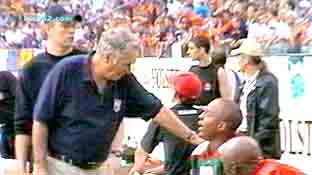 Once again Jack Bicknell had not been fortunate inside a World Bowl when his expected top gun had been able to strike. In 1999 Lawrence Phillips got injured while in 2001 his formerly flying offense couldn't produce enough touchdowns.
Final Touchdown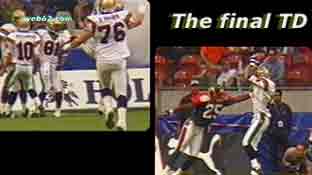 Thunder quarterback Jonathan Quinn had thrown a 53-yd TD pass to Dwaune Jones which Dragons CB Deauntae Brown had not been able to prevent.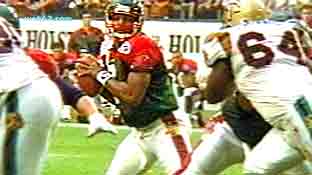 Jarious Jackson was trying it very hard, but the Berlin Thunder defense with T.D. Washington had been in a great mood and also his quarterback colleague Roderick Robinson had not been able to contribute much inspiration and hope to the team, which was mainly built on three field goals.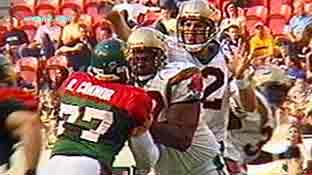 Jonathan Quinn had thrown the most yards of the season and the Thunder defense had finally gotten their act together after they were played dizzy in the two regular season matches when they had to swallow 55 points in their away match in sunny Sitges, Barcelona.