Kansas City Chiefs
In season 2015 the Kansas City Chiefs have come far and going out against Tom Brady and the Patriots in the week after Wild Card Weekend isn't too bad.
11 wins in a row had been a fine record and the team has left the season with good impressions.
Kansas City Chiefs in Europe on photos and videos
Welcome to a small Kansas City Chiefs program with videos, pictures, stories and player portraits from America`s famous Football team.
Kansas City Chiefs 2009 - 2012
Jeremy Cain has been on the roster since 2009.
Kansas City Chiefs 2006
Walter Curry had been with the Jaguars but he failed to impress.
Kansas City Chiefs 2005
had been S Deke Cooper with LB Tony Gilbert from the Rhein Fire, QB Quinn Gray with DE Paul Spicer from the Galaxy and P Chris Hanson from the Dragons.
Kansas City Chiefs 2004
Rhein Fire Safety and season MVP Deke Cooper, QB Quinn Gray and DE Paul Spicer from the Galaxy, Punter Chris Hanson from Barcelona and S Ray Perryman from Amsterdam had been the 2004 NFL Europe stars @ the Jaguars.
Kansas City Chiefs 2002
Season 2002 had brought Joe Tuipala from the Barcelona Dragons, Damon Gibson from the Claymores, WR Jimi Redmond from the Galaxy, Derrick Chambers from Berlin Thunder and Daryl Terrel from the Saints.
Kansas City Chiefs 2001
Season 2001 saw the Claymores Kory Blackwell, John Jacobs and Damon Gibson, Jim Tarle from Galaxy and LB Joe Wesley from Berlin Thunder.
Kansas City Chiefs 2001
From Berlin Thunder came Richard Hogans and also Joe Tuipala had been on board for his first season with the Jags.
From Frankfurt Galaxy came QB Ted White and from Berlin the World Bowl winning QB Jonathan Quinn, who might be a great player, but a real loser in front of a camera.
Videos from Kansas City Chiefs players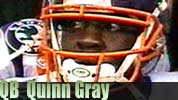 Quinn Gray had been on board of the 2008 Chiefs.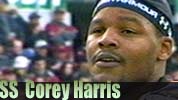 Corey Harris had scored 1 sack and 27 tackles for the Kansas City Chiefs.
Kansas City Chiefs 2006
On board in 8 games was running back Derrick Ross while tight end Keith Willis had not made it on any game.
Kansas City Chiefs 2005
On the team were Dante Hall and Lawrence Tynes from the Claymores, WR Chris Horn from the Admirals, QB Damon Huard, Gary Stills, Fred Jones, Tim Stuber and Jonathan Ingram came from the Frankfurt Galaxy alongside the great NFL Europe MVP LB Rich Scanlon from Berlin Thunder.
Safety Willie Pile, WR Aaron Golliday, WR Chris Horn and Guard Donald Willis had Admirals experience.
Kansas City Chiefs 2004
MLB Mike Maslowski had started injured into season 2004 and DT Montique Sharpe came from Berlin Thunder.
With Berlin Thunder's World Bowl Champion QB Jonathan Quinn, Brian Waters, Darnell Alford, Gary Stills from Frankfurt Galaxy, Dante Hall from the Claymores and SS/CB Corey Harris out of Rhein Fire the Chiefs had the largest amount of NFL Europe players on their squad.
Kansas City Chiefs 2003
had offered also a touch of Scottish Claymores with Ken Simonten.
Kansas City Chiefs 2002
Mike Maslowski had emerged as the hottest former NFL Europe property of season 2002 while WR Yo Murphy and QB Joey Germaine from the Barcelona Dragons couldn`t catch a spot.
Kansas City Chiefs 2001
John Blick from Rhein Fire had joined, but did not become active on the field.
Kansas City Chiefs 2000
With only 7 wins the Chiefs had missed the playoffs 2000 and on board had been for a first time the Barcelona Dragons 99 Mega-LB Mike Maslowski who had 9 solo tackles and 2 sacks in 9 games alongside Tyrone Williams and running back Frank Moreau from Rhein Fire who had scored 4 touchdowns for the Chiefs.
Probably the Chiefs had missed DE Mark Word, who had scored 12 sacks for the Cleveland Browns.