Tristano Onofri
Italian Designer Fashion
is a synonym for Italian quality design and his prime Fashion and Shows present very much the same flavor, that rules Milan, Paris, London or New York.
That's why formerly big corporations such as the LTU Airline, DaimlerChrysler and Japanese Tokai had enjoyed their cooperation with Tristano Onofri to the fullest.
Tristano Onofri Fashion videos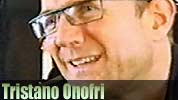 Explore CPD videos from top designer Tristano Onofri.
Tristano Onofri interview
Video

Tristano Onofri Fashion Show
summer 2004
Video 1 | Video 2
Tristano Onofri Fashion Show
summer 2003
Video 1 | Video 2
Tristano Onofri Fashion Show
summer 2002
Video 1 | Video 2
Tristano Onofri Fashion Show
summer 2001
Video 1 | Video 2
Tristano Onofri Fashion Show
summer 2000
Video 1
Video 2
Video 3