Tristano Onofri
Italian Designer Fashion
"In the sign of change" had been the name of Tristano Onofru's thrilling summer 2000 collection and since many years his shows have been the Highlight of the cpd opening nights, where so many people were dying for invitations.
Perhaps because he combines comfort with classic elegance, a sexy touch and always some state of the art creativity.

Tristano Onofri Fashion videos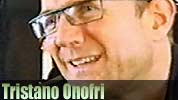 Explore CPD videos from top designer Tristano Onofri.
Tristano Onofri interview
Video

Tristano Onofri Fashion Show
summer 2004
Video 1 | Video 2
Tristano Onofri Fashion Show
summer 2003
Video 1 | Video 2
Tristano Onofri Fashion Show
summer 2002
Video 1 | Video 2
Tristano Onofri Fashion Show
summer 2001
Video 1 | Video 2
Tristano Onofri Fashion Show
summer 2000
Video 1
Video 2
Video 3