Manfred Kronen
CEO Igedo Company / CPD
Booming markets in Russia and China as well as a new office in Milano were the latest news from the IGEDO COMPANY provided by CEO Manfred Kronen himself in one of his last interviews.
Meanwhile markets have changed after the sanctions against Russia, but also for Manfred Kronen, who had given up on fighting local politicians, that were vividly trying to mess up his fashion trade fair business, which was hosted on a fair ground that was rented from the city of Duesseldorf.
In the end Manfred Kronen sold his family shares before the new management got imposed by the authorities.
In fact they had selected a new managing director whose only qualification had come from running a few computers and a small corporate website, for which web62.com was producing some at that time revolutionary web TV for former igedo.tv and also shown at web62.com for some at that time trend setting 30.000 requests.
Anyway, the formerly largest fashion trade fair in the world was rapidly brought down from 2000 to 200 exhibitors while the community lost some massive annual income.
Manfred Kronen Video Interviews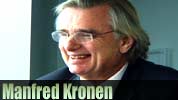 Global Fashion Markets
Video Interview
The War in Iraq
Video Interview
International Trends
Video Interview
International Markets, China usw.
Video Interview
International Trends
Video Interview