Calvin Klein
fashion from New York
At the age of 20 Calvin Klein graduated from the Fashion Institute of Technology in 1962.
For 5 years he then worked for the Seventh Avenue producer Dan Misstein.
In 1968 he started his own business concentrating first on fine coats.
In 1969 Vogue introduced Calvin Klein for a first time on the cover.
Calvin Klein on video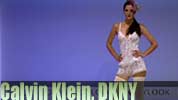 Calvin Klein & DKNY Lingerie 2010
Fashion Show Video