The African music channel
Oboja Adu
Ghana Afro Pop
Expression rules and in his role as an experienced choreographer Oboja also keeps a close look a all the dancing on stage.
All recent Oboja Adu CDs have been produced by the great Tony Brown from the UK, what has given his performance additional depth.
Sometimes Oboja is also making traditional drum and dance performances.
Africa videos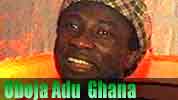 Oboja Adu live Music and interview
Video 1
|
Video 2